N° 10
November / December 2021
—


TTS Italia is the Italian ITS Association founded with the aim to promote the development and deployment of Intelligent Transport Systems (ITS) in Italy.
TTS ITALIA WISHES YOU ALL
A MERRY CHRISTMAS AND A HAPPY NEW YEAR!
The interview by Morena Pivetti

From car containers to urban hubs, the digitization of parking is the main road. Fabio Mosconi, president of AIPARK, designs the future through the guidelines written with TTS Italia.
From car containers to urban hubs fully integrated into the city mobility system, capable of integrating the parking offer with a variety of services, including electric charging and logistics for the delivery of goods. It is fully intermodal, an exchange node with micro-mobility, sharing mobility and local public transport. Furthermore, precious holders of data on people's movement habits, useful for local administrations to plan urban space and mobility, starting with private traffic.
This is the evolution of car parks that AIPARK, the Italian Association of Parking and Mobility Operators, foreshadows for the future thanks to the acceleration of the digitization of the entire operational process up to payment. Towards this final goal, AIPARK has set up a working group together with TTS Italia with the aim of developing guidelines for the digitalization of parking with electronic devices, guidelines and recommendations which, once the work was completed, were presented on 24 November in a joint webinar.




In this interview, Fabio Mosconi, president of AIPARK - 90 associates present in over 250 Italian cities serving a population of over 22 million citizens, the most important operators of the national and local parking services, public and private, professionally competent in the management of on-site parking lots and on-street parking charges and the industrial sector to support the management - and parking and parking manager of the Milan ATM.

Let's start with the survey on the state of parking and parking in Italy. What is the starting situation?
The Italian reality is very different from that of the large European metropolitan and highlights a deficit in parking planning, a shortage of parking spaces which is also the result of the high growth of private motorization to the detriment of collective transport, which discounts more contained modals quotas. The scarcity of parking spaces is particularly significant if we consider the public and private car parks in the structure: while in Europe they make up 60% of the offer compared to 40% of the road, in Italy the percentages are reversed. Thus the cars are concentrated on the surface, occupying the useful public areas, which are finished, taking away space for other means of transport and cycling and pedestrian mobility and slowing down traffic.

An indicative number?
Our estimates tell us that Italian cities are suffering from a deficit of 650 thousand parking spaces: if we put them in line we would cover 3 thousand kilometres, the distance between Rome and Moscow.

How should urban spatial planning change?
What I call the complexity of the curb must be managed to make cars coexist with scooters, bicycles, scooters, private or shared, vans for the delivery of goods and charging stations for electric vehicles. The great challenge we face is freeing up space for different functions, transforming our parking management from operational to strategic and the only way to do this is digitalization. It will be possible to contribute to the urban planning of local authorities, also by making available the data we have, so as to manage mobility as a whole. Milan is an example: we have completely digitized the parking with the license plate as a distinctive element. Not only for payments but together for the issue of permits, for carrying out checks and, thanks to a new paragraph inserted in September 2020 in the Highway Code, also to raise fines for infringements. Finally, to transfer to the Municipality precious data on the mobility of the Milanese, on their movements, useful for improving the design of public space and all transport services.

What prompted you to work together with TTS Italia to develop the guidelines?
We wanted to build a path towards digitization, which is fundamental for us, and to offer a working tool both to the Municipalities, to the parking operators, and to the suppliers of technological and digital services. The collaboration with the association that represents the Italian ITS moves in the logic of parking as an integral part of the mobility system: knowing where, how and at what rate to park is useful for all citizens to move better and for managers to better organize their business. From car containers, the car parks in the structure must become urban hubs where citizens can find all the mobility alternatives, from micro-mobility to e-commerce logistics. Otherwise we will have lost the challenge.

The president of AIPARK - which is associated with EPA, the European Parking Association - gives the example of the car parks of large shopping centers, comfortable, well lit, with car wash and repair shops:
It is the first and last place that the customer sees, we public and private parking managers have to think with the same logic. Transferred to mobility is the logic of MaaS, of Mobility as a Service: parking, parking are a piece of the puzzle. So much so that we have been called to participate in the partnership table on digitization convened by the Ministry of Sustainable Infrastructures and Mobility and by the Ministry of Digital Transition.

What are the results of the guidelines developed with TTS Italia?
The main objectives were two: to put order in the complex system of digital payments and to establish the roles and the hierarchy between the different actors and operators in the digitization process. Investments need to be accelerated to make the leap in quality that MaaS needs, both by public and private managers and the AIPARK world includes both. We are far behind compared to other European countries. With the due exceptions, because there are Italian cities that play it.

What will be the benefits for the different categories?
For Municipalities and managers, certain and real near-real-time data on parking, a technological infrastructure capable of enabling other and more advanced services for the Smart City and offering better mobility services: for example, signalling the zones to users where it is easier to find parking, integrate parking with ticketing or parking with soft mobility and public transport. Finally, the opportunity to plan parking spaces and rates in a more rational way thanks to big data, monitoring the length of parking and the intensity of the demand to guide the functional choices of citizens. For citizens, less traffic congestion and the possibility of easily accessing services that improve the livability of cities, for example the warning of the expiry of the parking and the possible extension from their smartphone or the suggestion to go to parking spaces in the structure, or use alternative means to go to an area where there is hardly a place on the road. Again, again for parking operators to facilitate the management of processes, such as fines, with digital readers to optimize the work of the inspectors.

Any practical advice for those left behind to speed up digitization?
The first and most important: off paper. Then dematerialization of parking tickets and adoption of apps, parking meters, permit system, verification and sanctions completely digital and linked to the license plate. To reach the final goal of making parking a service of the smart city, digitization is strategic, it is the main road.

Who is Fabio Mosconi. Fabio Mosconi is Director of Parking and Controlling of ATM S.p.A. He has been operating in the parking and parking area since 2000, managing approximately 20,000 off-street parking spaces and 100,000 on-street parking spaces in the Municipality of Milan. Member of the Aipark Board of Directors since 2003, he has been president of the Association since July 2020.
FOCUS ON...

Guidelines for compiling the Italian NeTEx profile
In 2020, TTS Italia and UNINFO, with the coordination of 5T, launched a Working Group dedicated to NeTEx with the aim of defining the Italian profile of the NeTEx data exchange protocol, to be adopted for the exchange of static data from the TPL to the Italian NAP, in accordance with the Delegated Decree 19206/2017 from the European Union and consistently with CEN standards. On 2 December, with a dedicated webinar, the "Guidelines for compiling the Italian NeTEx profile", the result of the Working Group, were presented.
For more information, click here.
For the Guidelines, click here.

Digitization and parking - AIPARK / TTS Italia Guidelines available
Digitization in parking management is an extraordinary tool for making payment services, controls, monitoring and integrations for operators and users more efficient. The parking sector thus also becomes an exceptional source of data, and therefore of information, which finally allow us to think - on a scientific basis - on parking policy issues, related to mobility strategies, optimizations and additions. This was discussed in the joint AIPARK/TTS Italia webinar on November 24th.
For more information, click here.
For the Guidelines, click here.
Funding for the digitalization of transport. The TTS Italia webinar - Guidelines available
On 21 October the webinar "Funding for the digitalization of transport", organized by TTS Italia, and moderated by the Secretary General of the Association, Olga Landolfi. The event was an opportunity to present the guidelines developed within the TTS Italia Working Group of the same name, coordinated by Eng. Fabio Nussio of the Rome Funding Department for Mobility Services. The guidelines are intended to be a practical and concrete support tool for public bodies, institutions and private individuals in order to make the most of national and European funds in favor of mobility and transport.
For more information, click here.
For the Guidelines, click here.
Trafficlab is a traffic and transport engineering lab. In recent times it was converted into a company and registered in the special section for innovative start-ups. It is involved in the development of cloud platforms and advanced technology solutions, providing traffic monitoring and control of new generation smart transport systems thanks to its artificial intelligence models for cameras and big-data. The main tasks consist in the design and installation of innovative solutions aimed at monitoring traffic and analysing motorway concessionaires, private and public entities.
—
PRODUCT OF THE MOMENT
DataFromSky FLOW: the solution for certified traffic monitoring.
Over the last decade, new technologies combined with high computing tasks have made it possible to process large amounts of data by extracting them directly from simple images or videos. These remarkable applications are based on the use of specific artificial intelligence techniques, i.e., deep learning: this technique allows the automatic recognition of moving objects from static images (frames) and their sequences (videos). Trafficlab offers an innovative solution coming from almost 10 years of development: DataFromSky FLOW. Since 2012 DataFromSky has been the reference point in Italy and worldwide for traffic monitoring from aerial video and permanent cameras.
Thanks to a continuous improvement of its algorithms, several integrated functionalities are at disposal for a 360-degree traffic control: detection of potential accidents, calculation of service levels and queues as well as a categorization of up to 8 categories including pedestrians and cyclists (soon also e-kick scooters).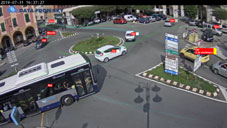 From the experience acquired over the years, the FLOW version is now available: a powerful framework that let you take advantage of the video streams from existing cameras to monitor traffic, without having to install any new hardware. Our solution allows the existing municipal video surveillance network to benefit from a new functionality, as in the case of the Municipality of Turin which, thanks to the Torino City Lab project, will test FLOW on the widespread video surveillance network of the Municipal Police Command. The software is fully configurable not only for existing cameras but also for new installations: both in the edge version (in this case it is the camera that processes the video) and with the local unit for processing up to 5 cameras. A server version for monitoring hundreds of cameras is also available for the operations centers aimed at controlling and supervising traffic.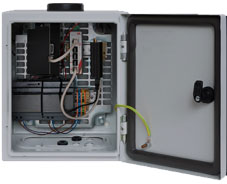 Customers are also provided with a Wetraffic Professional cloud platform that allows a real-time monitoring of traffic conditions thanks to an agile and intuitive solution: from viewing video images to checking the main traffic indicators. All this permits to have a professional scalable decision support tool for all types of customers: from small municipalities to traffic centers.
Finally, it is essential to highlight how being aware of traffic in detail is a complex process. Detecting in a reliable way the data is only the first step: what is needed is to confirm and validate the traffic data through a precise procedure. The aim is to ensure that traffic monitoring guarantees the purposes for which it was set up: no errors, omissions in the calculation algorithms and in the methodologies of data analysis and tampering.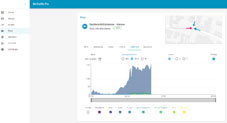 For this reason, the project named DIAS (Data Integrity Audit Service) was recently launched in collaboration with Rina Service S.p.a., allowing to check the validity of the traffic data through a SaaS cloud platform. Thanks to a specific protocol signed between Trafficlab and Rina blockchain technology, the data, automatically processed by the video streams, is made incontrovertible through cryptographic seals and then securely stored thanks to RINA company qualification as a CAB (Conformity Assessment Body). Subsequently, through a traceability process, the traffic data is recovered by an auditor for an accurate assessment that must comply with rigorous statistical sampling procedures (ISO 3951). The final result is a clear process that guarantees the reliability and traceability of the data, duly reported in a final certificate made available to the customer.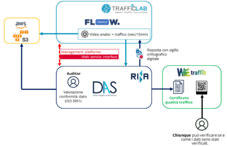 —
TWO QUESTIONS TO
Andrea Marella, Sole Administrator of Trafficlab s.r.l.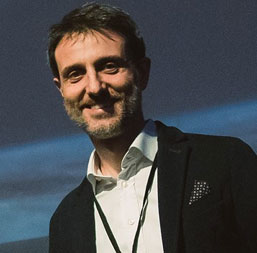 Given the increasing interest in this topic, how do you think the traffic monitoring and analysis market will meet the new needs in the coming years?
Even though 70% of the 8.000 municipalities in Italy has a population of less than 5.000 inhabitants, yet these realities also face issues with traffic knowledge, not only metropolitan cities. If we think about the municipal officer engaged in many activities, how could he easily get traffic data?
I believe current technologies in use to detect traffic data, such as radar, lasers, cameras, FCD data etc. to be mature and able to produce massive quantities of data. The greatest challenge for the future will be having tools capable of managing and processing such a large amount of data and offering a customer service that is easy to use and, above all, available. I do not believe in intricate solutions that integrate many systems, as the user experience would be negative, but rather in web based solutions that provide aesthetically attractive platforms that are at the same time - depending on the user experience - skilled for advanced applications.

More and more people talk about the traffic and environmental sustainability duo; in addition to technologies for vehicles, are there in your opinion low-cost solutions to improve the quality of life in the city?
Environmental sustainability and a conscious lifestyle are the major challenges we are called to face for the next decades: notwithstanding more than 20 years of denouncing by the scientific community, the threat of climate change has only recently been addressed by stakeholders, making, unfortunately, concrete proposals still something really far away. In my opinion, as with all complex harms, there is no one-fits-all solution: only many small actions can lead to achieving the final result. Right now, people can choose to ride a bicycle or car sharing, but what we would need is a solution that makes the user really aware of the damage caused by traffic pollution. In this regard, in the first months of next year, as Trafficlab we will launch the Wetraffic project. Through the use of a WebApp and by sending a short video on road traffic, the air pollution generated by the assessed vehicles can be balanced out in new clean air by planting new trees. We are aware that this will be a small contribution, but if we all commit ourselves to change, our cities will also be able to improve. In the end, we are the traffic.

Smart Parking - How to know the capacity of the parking area in advance.

If you want making life easier for the citizens, then we have the solution for you. What we offer it is the possibility to know in advance and in real time which parking area is still available in your town or even which parking lot is still free. In this way the citizens will have an excellent service and will not waste time.
Comark has developed a Wireless Magnetic Sensor called LOMAG which detects vehicles by measuring the change in the earth's magnetic field as the vehicle stops over the detector. The parking sensor is buried in the road and transmits the data to a gateway installed on the side of the street.
Here are some of the great advantages of the wireless solution:
• Quick and easy to install
• Very accurate on the monitoring of the parking lot
• It is not necessary to carry out any type of wiring as the LOMAG sensor is powered by lithium-ion batteries which last from 5 to 8 years.
COMARK is able to provide a complete solution that includes local control units to receive data from gateways and central software (Cloud or private) that provides a dashboard for system management and data visualization.
To find out more, please visit our website:
www.comarkud.it
PTV Group successfully integrates the UK's first real-time transport model with City of York Council (UK)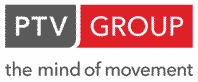 PTV's Optima traffic management and forecasting software has been successfully implemented in the city of York, UK - a vibrant city with problems of traffic congestion, pollution and accessibility. The project involved the creation of Britain's first real-time transport model for traffic management and was developed as part of the "Smarter Travel Evolution Program - STEP".

The City of York Council (CYC) has always managed the live transport network through staff monitoring CCTV and social media feeds, with Network Monitoring Operators (NMOs) and transport engineers manually implementing new plans and traffic light changes alleviating network problems. With PTV Optima installed in the control room, NMOs are now taking a more proactive approach to monitoring and influencing the network.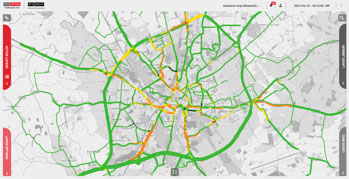 York's real-time model built with PTV Optima combines dynamic offline transportation models with live traffic data to provide the control room with a network-wide forecast of current and predicted congestion. The model is integrated with over 100 traffic flow sensors, over 100 live signal controllers, live network-wide speed data provided by TomTom, and up-to-date information on roadwork and other network changes.
The live model combines all of this data into a single display. The control room uses this information to see in detail what's happening across the entire network, and not just in those locations with sensors or CCTV. PTV Optima also allows the control room to test alternative scenarios for the next hour, the next day, or weeks into the future. The city then has a resource to monitor current conditions, plan for the near future, observe how plans play out and use that knowledge to improve future strategies.
The 5G- Routes project with SWARCO Mizar

Companies around the world are looking to test functionalities of autonomous vehicles, busses, and trucks mainly on urban situations. At European level, countries are collaborating to achieve an ambitious Connected and Automated Mobility (CAM), also including circumstances in which road users would need to go across EU countries. The vision of a future with vehicles that can guide by themselves (i.e., without human intervention) and crossing different regions is being built right now.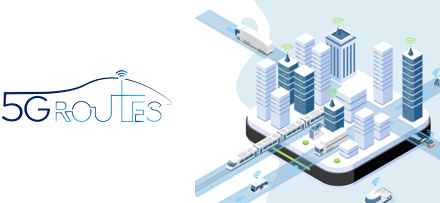 Mobile telecommunications continue evolving from 3G to 4G, to 5G improving data rate, coverage, and reliability. The telecom industry considers multiple uses of this 5th Generation to open novelty services such as the connection of multiple machine type objects (e.g., "smart" devices and sensors, ultra-HD video streaming) as well as ultra-reliable and low latency connectivity services (e.g., towards Autonomous Vehicles (AVs) implementation) The transport and automotive industry expect to take advantage of those benefits to — connect — vehicles and infrastructure, share the information gathered and produced to — cooperate —, with the ambitious aim to — automate mobility — (CCAM). In transport, connection and communication in real time are essential aspects, but in a door with multiple locks, 5G is only one of the keys. Going further, interoperability and fusion to combine data from multiple sources such as the installed equipment on intersections and in AVs to make available highly automated mobility services are additional challenges being pursued. In practice, how to plan in advanced manoeuvres, routes, trajectories for AVs? Or produce specific Vulnerable Road User (VRU) warning messages to warn them from potential risks? Cooperative mobility services that first need to be connected, tested, and validated.
Lab test and real-life trials are planned during the 5G-Routes project which aim is to validate the latest 5G features and 3GPP specifications under realistic conditions, so as to accelerate the widespread deployment of 5G E2E interoperable CAM ecosystems and services in digitized motorways, railways and shipways throughout Europe. This European funded project expects to test innovative CAM applications functioning across a designated 5G cross-border corridor ('Via Baltica-North') spanning across 3 EU member states borders (Latvia-Estonia-Finland).
In 5G-Routes project, SWARCO Mizar is applying its expertise in the topic of CAM to enable services for VRUs and AVs through the use case 2.1 Real-time traffic info and cooperative intersection collision control. This awareness driving use case primary objective is assure and enable a reliable exchange of road traffic status data between VRUs, drivers and TMCs through enhanced real-traffic video fed and controlled via V2X communication standards considering 5G network. Focus on the continuity of the service, the UC-2.1 approach allows first the collection of information of the existing traffic management services to its further analysis. Second, the comparison between the existing TM systems and the improved C-ITS services which integrates the capabilities of the 5G network to collect and interchange data. Finally, through an enhanced real-time traffic visual monitoring and the control of an intersection traffic for cooperative automated driving, enable a safe passing for VRUs in a pedestrian crossing and a collision warning between vehicles. As consequence, it is expected a boost of the automated driving due to the improvements of the C-ITS services produced by a more coordinated transport networks (e.g., enhancement in terms of vehicle position speed, driving trajectories, collision warnings, user comfort in traffic jams) and simultaneously the integration of novelty services for VRUs, such as safe passing, to make them aware about the potential road hazards.
Swarco Mizar is using advanced traffic monitoring systems and road infrastructure technologies such as smart traffic lights, Safe-Light systems (i.e., Ground projection of light for pedestrian safety), roadside units, cameras with artificial intelligence GDPR compliance, to improve safety for all road users.
5T: the renewal of the infrastructure of the Mobility Center is underway
On November 30, the Municipal Council of Turin, a member of the Platform of Local Authorities of TTS Italia, approved the 'Traffic & Mobility Management' project aimed at the renewal of the sensor system and measurement of urban traffic, which will be coordinated by 5T Srl, TTS Italia ordinary member, and financed with about 2 million euros, as part of the PON Metro program with React-Eu funds (Recovery assistance for cohesion and the territories of Europe) for initiatives in support of a green, digital and resilient.
For the Municipal Administration, this is not a mere infrastructural adaptation: the project will enhance the tools for collecting and integrating the mobility data of the Central, improving on the one hand the performance of already existing services, such as the traffic light priority for public transport. o information mobility services for citizens, and on the other hand increasing the wealth of information on how mobility in the city is changing and directing interventions and choices appropriate to the needs of its citizens.
In detail, the project will allow the City to:
- renew the Turin traffic monitoring and measurement network with the latest generation sensors, which currently has about 1000 across the entire urban area
- further enhance the cycling and pedestrian mobility monitoring network on 15 city axes (still being defined) with the installation of additional counting stations in addition to the 7 already existing on the main cycle paths and to the 4 envisaged within the scope of another PON funding line, approved last week
- develop tools for analyzing the demand for multimodal mobility that take into account not only travel by car, but also those made by public transport, bicycles and sharing mobility vehicles
- carry out a feasibility study for the construction of a management and support system for city logistics for the City of Turin to support the Administration in optimizing urban logistics with infrastructural and procedural interventions.
Source: TorinoClick
Aep brings the ticket with Emv bank cards on the Atm buses in Milan. 7,000 new validators are on the way
Aep Ticketing Solutions, TTS Italia ordinary member, will be responsible for the new validators that will allow users of the Milan ATM buses to buy tickets via the App and Emv bank cards. In fact, following a public tender procedure, the supply of the new electronic validators that will be installed on the surface vehicles supplied to the ATM Group of Milan.
7 thousand electronic devices will be installed on all 2 thousand surface vehicles to pay for tickets by bank card, as is already the case on the subway in all 113 stations. The total value of the investment exceeds 12 million.
The extension of the contactless system is fully part of the process of dematerialisation of travel tickets that Atm has already started in recent years and which today records important results: in the subway from 2018 to date, 23 million card purchases have been made. credit at the turnstiles.
«This contract is a great result - declares Saverio Bettini, CEO and commercial manager of Aep - which confirms our company as one of the best equipment manufacturers on a global level. Our solutions, thanks also to the technology for the EMV bank card process developed entirely internally, are achieving great success in Italy and abroad. Their characteristics, their design, their sturdiness and their durability are winning, together with the proven support services that we are able to offer and which, even after many years, continue to guarantee their perfect functionality".
"The horizon to which we are aiming for the progressive transition plan from the old titles to the new ones is 2024 - explains Giovanni Becattini, CEO and head of the product lines of Aep -. Aep has a strong technical connotation and has always been at the forefront in the design and construction of public transport equipment. The technical specifications of the Milanese tender were aimed at technological innovation. A challenge that we took up by proposing Futura 3B-Ultra: a solution that, while retaining the exceptional Italian style designed by Giugiaro, is based on innovative and highly advanced electronics that promises to become a reference point for the entire market".

Source: Ferpress
AEP Ticketing Solutions Joins Modaxo
Modaxo Inc. ("Modaxo"), a global technology organization focused on moving the world's people, today announced the acquisition of AEP Ticketing solutions s.r.l. ("AEP"), a leading provider of eTicketing solutions to the public transport industry.
AEP brings to Modaxo a rich history in providing innovative software and hardware solutions that covers all aspects of ticketing — from the most traditional to the most advanced such as eCommerce, Account-based Ticketing, and EMV bank cards. Based in Italy, the company has amassed 500+ customers over its 20+ year history.
"eTicketing in the public transport space has evolved considerably and rapidly over the past decade and AEP has played a key role in driving innovation in this space," said Bill Delaney, CEO, Modaxo. "It's a great pleasure to welcome AEP's management, employees, and customers to Modaxo. The company and its team are a great complement to our ever-expanding portfolio of companies focused on People Transport."
For AEP, the acquisition provides the business and its employees with the opportunity to share best practices amongst a collective of like-minded businesses dedicated to moving the world's people. In addition, the acquisition enables AEP to make further investments in its people, product innovation, and explore new geographic markets.
"AEP has strong domain knowledge and experience in the vertical market of e-ticketing for People Transportation. Being part of Modaxo enables AEP to enlarge its geographical reach and grow the business," said Saverio Bettini CEO, AEP. "Modaxo's buy-and-hold-forever philosophy means a bright, long term future for AEP — a future that benefits both employees and customers."
AEP maintains its brand and autonomy while benefiting from support, coaching and best practices made available by Modaxo. Saverio Bettini continues to lead the business as CEO, supported by the existing management team.

Source: AEP
AIPARK and Viasat: Managing the parking in a Smart City perspective
Viasat, TTS Italia ordinary member, joins AIPARK -Associazione Italiana Operatori Sosta e Mobilità (Italian Association of Parking and Mobility Operators), a network of the most important national and local public and private service sector operators, involved in the management of parking facilities and on-street charging. This sector operates with its members in more than 250 Italian cities, providing services to a population of over 22 million citizens.
The parking system is particularly characterised by innovation, in terms of sustainable mobility solutions, in the introduction of digitalisation and in the operation of management activities for the various components of urban mobility, not least in the analysis and prevention of incorrect behaviour.
This is the context for Street Parking, the vertical solution of Viasat Smart City suite dedicated to the control and sanctioning of regulated parking areas. Street Parking's wide range of data processing capabilities allows accurate analysis of occupancy and payment data, enabling targeted corrective and/or development activities and actions. Street Parking provides an intelligent and effective management of parking spaces on a Cloud platform, resulting in more efficient management, better services and protection for users.
"An integrated management of parking at system level is now a key point to manage mobility in a multimodal way, but especially because having smart and safe communities is something highly strategic for the municipalities themselves," said Valerio Gridelli Head of BU Smart Connect Viasat.
To read more about the Viasat platform for Smart Cities https://bit.ly/3xJ2ok9

Source: Viasat
From Viasat, Blutrack 7.0 for control and recovery in case of theft
It is the protagonist of the new branded protection offer by Viasat, TTS Italia ordinary member: the innovative BluTrack 7.0 with dual function.
Before the theft, it automatically reports twice a day where the asset is located, and after any theft, it allows you to activate tracking and actions to facilitate recovery.
The BluTrack 7.0 is as small as a bar of soap, invisible to thieves, has no cables, wires or antennas, does not require installation and is equipped with a very long-lasting internal battery (up to 3 years of autonomy). It is designed to know daily, via web map, the position of trucks, vans, containers, agricultural vehicles and construction machinery, as well as being an effective system for protection and tracking in case of theft. . In fact, at the request of the Customer, the Viasat 24/7 Operations Center intervenes to activate the continuous tracking mode by locating the position of the asset and coordinating the intervention of the Police Forces to facilitate a timely retrieval.
BluTrack 7.0 integrates GSM / GPRS / GNSS technology and adapts to the specific needs of companies that use semi-trailers and containers in combined transport by land (road and rail) and by sea. In this way it is possible to periodically check their position, both when they remain parked in ports for several days and when they are on the move. Furthermore, it is also an intelligent solution for monitoring stationary vehicles and tools on construction sites or agricultural areas. Finally, an extra security: Viasat checks the battery level, warning you when it's time to replace the device.
As Berg Insight reports in the 15th edition of its 'Fleet Management in Europe' study, the number of fleet management systems in use, active in Europe, is expected to grow at an average annual rate of 13.4%, from 10.6 million units at the end of 2019 to 19.9 million by 2023. We are talking about real-time tracking, geolocation, route optimization, goods security: all solutions that allow you to improve the operational efficiency of the company and to develop their business. In this sense, Viasat Fleet (Viasat's Business Unit dedicated to the Logistics and Road Transport market) makes the best of telematics available to its customers from this point of view.
Source: Viasat
Geotab releases first sustainability report, charting path to net-zero
Acknowledging the pivotal role it plays as an enabler of low-carbon fleets and supporting infrastructure, Geotab, a global leader in IoT and connected transportation, and TTS Italia ordinary member, announced its commitments to helping fight climate change via its inaugural Geotab Sustainability Report. The report, which leverages 2019 as a baseline for measuring Geotab's 2020 sustainability efforts and results, lays a foundation for future reports and presents long-term goals for the company's business. It underscores Geotab's continued commitment to climate action, a heightened focus on reducing emissions across the company's entire ecosystem and its alignment with the UN Sustainable Development Goals. 
 In its report, Geotab has set an ambitious new target to achieve net-zero emissions by 2040, one decade earlier than called for in the Paris Agreement, which aims to limit global warming to well below 2°C, preferably to 1.5°C above pre-industrial levels.
"Climate change is one of the most important issues of our time," said Neil Cawse, Chief Executive Officer of Geotab. "Our commitment to net-zero greenhouse gas emissions by 2040 is not just about us – it's about creating a better world for the generations to come. And as a global leader in connected transportation, we have a unique opportunity to work with our peers and partners to help move the commercial transport ecosystem to carbon neutrality. This is something we take very seriously—from being a core driver in our innovation and product strategy, down to the companies with whom we do business, and the tactical decisions our team makes on a day-to-day basis. We recognize that setting targets is easy -- achieving those targets is hard. We see this as a painful necessity that we, along with our forward thinking customers, must do in order to do the right thing for our future."
Geotab's sustainability efforts are organized into four key pillars: safeguarding the environment, sourcing responsibly, providing innovation that helps organizations do things better and do better things, and creating positive impact in communities. In 2020, highlights across the four pillars included:
• Focused efforts on product innovations that drive more sustainable and safer transportation operations for its customers. By building products and services that enable and drive sustainability, Geotab has created relationships and educated and found customers that can benefit most from them
• Established relationships with critical partners, like vehicle manufacturers, charging infrastructure providers, governments and other key drivers within the transportation ecosystem that are crucial to making the green transition to sustainability
• Set a near-term target for Scope 1 and 2 to reduce greenhouse gas (GHG) emissions by 50% by 2030
• Voluntarily issued commitments and joined initiatives including to lowering carbon emissions: The Climate Pledge, Science Based Targets Initiative, United Nations Global Compact, CDP, We Mean Business Coalition, and Race to Zero
• Diverted 54.6% of waste from landfills through adoption of a corporate-wide sustainable approach to recycling built on culture, communication, and collection
• Achieved multiple employer recognitions including Great Place to Work, Best Workplaces (overall, as well as for Inclusion, Women, Mental Wellness, and Today's Youth)
• Established a Corporate Social Responsibility Task Force to create definitive action plans to advance environmental, social, and governance (ESG) efforts across global operations
Geotab embarked on its sustainability journey after creating its first greenhouse gas emissions inventory in 2019. Aligned with the GHG Protocol methodology, Geotab's GHG emissions inventory details the company's direct and indirect emissions, and marks the start of its journey to becoming net-zero by 2040.  It is Geotab's goal to continue decreasing its carbon emissions by measuring and managing its overall footprint annually. Some examples of the company's plans to achieve its goals include putting into place greener energy sources for its buildings, reducing materials and other carbon-emission elimination strategies.
Beyond its efforts within its own operations to drive to net-zero, with the transportation sector accounting for a significant source of greenhouse gas emissions globally, Geotab recognizes that its greatest impact on climate change can be realized through its focus on helping its more than 50,000 global customers and partners achieve sustainable transportation outcomes. With over 2.5 million vehicles using Geotab worldwide, its customers' fleets emitted over 25 million metric tons of CO2 in 2020. An increase in efficiency by even just 5% would equate to a decrease of CO2 emissions by 1.25 million metric tons per year. Examples include: 
• Geotab's Green Fleet Dashboard  provides organizations with insights related to fuel and energy consumption, GHG emissions, EV utilization and driver behaviour to help reduce fleet emissions and monitor the success of green initiatives. Its Electric Vehicle Suitability Assessment tool is helping organizations determine how to replace their internal combustion engine vehicles with electric vehicles.
• With its big data capabilities, Geotab also advances industry knowledge of EVs. The company is able to provide insights on EV performance data, including battery degradation trends and how factors like temperature impact operations. Policy makers and members of the EV industry at large can additionally access vehicle movement and electrification datasets aggregated by Geotab as a useful tool to inform strategy and develop solutions to solve real-world challenges.
Cawse continued, "As a technology leader, we are in a unique and important position to fight climate change by driving other companies' low-carbon transportation initiatives with our own products and services. Since our data-driven insights empower fleets to understand, act upon, and scale their efforts in reducing their emissions, this is where Geotab, along with our partners globally, can make the biggest difference. We can be the catalyst to helping our customers, partners and suppliers to improve energy efficiency, conserve resources and meet their own climate change goals."
The Geotab Sustainability Report will be released annually. It can be accessed here.

Source: Geotab
Geotab survey: 6 out of 10 Italians would give up their company car for corporate car sharing, helping to reduce the environmental impact
Geotab - global leader in the field of IoT and connected vehicles and TTS Italia ordinary member- wanted to investigate the expectations and benefits related to the use of company cars in the post Covid-19 era, with a particular focus on the growing trend of corporate car sharing.
According to the survey results, almost half of Italian companies (49%) offer their employees a company car as a benefit, although this habit is more common in northern cities than in southern Italy (61% in Milan compared to 34 % in Palermo and 42% in Naples). Furthermore, although in many cases the pandemic has reduced the need to travel, leading people and companies to prefer virtual meetings and remote work, during the health emergency the number of cars assigned to employees has increased for one in four companies. (24%).
It is interesting to note that the company car is only in fifth place (8%) for attractiveness among the most popular benefits, after health insurance (33%), meal vouchers (25%), company canteen (11%) and reduced summer hours. (11%). However, almost half (49%) of those who do not benefit from a company car believe it would be important to own one. The survey also highlights how younger people are on average more interested in the company car: 59% of the respondents belonging to Gen Z would consider it important to be able to use a company car, compared to 55% of Millennials, 45% of Generation X and 40% of Baby Boomers.
Among the advantages of owning a company car that emerged from the survey are convenience (70%) - or the possibility of saving yourself a series of hassles associated with owning a private car or using public transport, as well as the simplification of one's life or family management - and cost savings (67%), such as petrol, car tax or insurance. In this context, important regional differences emerge: in Turin, for example, the interviewees were significantly interested in the convenience of being able to use the company car for their own journeys (83%), while in Rome the possibility of reducing the costs of owning a car (81%).
The Geotab survey showed that people's growing attention to sustainability is not reflected in the actions of the companies they work for. In fact, although 88% of employees of organizations that offer the company car as a benefit believe that it is important to prefer hybrid or electric cars, only one in three company cars (30%) can be considered environmentally friendly. On the other hand, vehicles powered by diesel (36%) and petrol (17%) dominate, followed by vehicles powered by LPG (10%) and methane (7%).
Among the Italian cities considered by the survey, Turin is the one with the lowest percentage of electric or hybrid vehicles within the company fleets (13%), while Rome is positioned on the first step of the podium, with 43% of ecological vehicles, followed by Bologna (37%), Milan (34%), Naples (26%) and Palermo (23%).
To meet the expectations of their employees, more and more companies are choosing corporate car sharing, which enables the sharing of the car fleet among all members of the same organization. At the same time, this model allows companies to reduce costs related to the rental and use of vehicles, thanks to better visibility on the trips made and the relative consumption, and to employees to be able to use the vehicle whenever they need it. desired.
According to the Geotab research, currently in Italy corporate car sharing is offered by less than half of the companies (43%) but, where available, it is highly appreciated by employees: 77% of the interviewees who have access to it have, in fact, declared to have already made use of it. On the other hand, among those who have not yet had the opportunity to use the service, it is the citizens of Naples who are most interested, with 53% of respondents who would consider it important to be able to take advantage of corporate car sharing, compared to a national average of 42%.
Comparing the different age groups, Millennials stand out as the most eager to join corporate car sharing (46%), followed by Generation X (40%) and Gen Z (38%). Baby Boomers, on the other hand, are positioned in the last position of this special ranking (34%).
Even in the context of corporate car sharing, the issue of sustainability emerges: almost two thirds of vehicles (63%) are not yet ecological, although there are some virtuous situations: in Milan, in fact, almost half of the fleets (48%) is made up of electric or hybrid vehicles.
Furthermore, attention to one's environmental footprint is a very important factor for almost all employees, so much so that 86% of those who work for companies that do not include eco-friendly cars in their car-sharing fleet say they would appreciate their introduction.

Source: Geotab
Geotab wins the "Best Fleet Management Software" award at the 2021 MissionFleet Awards
During the gala ceremony held in Milan on 22 November, Geotab - global leader in the field of IoT and connected vehicles, and TTS Italia ordinary member - received the jury prize of the MissionFleet Awards 2021 as "Best management software for the fleet ".
In a year of profound changes and rapid evolution in the sector, the Newsteca publishing house wanted to celebrate the fleet managers, automotive suppliers and car manufacturers who have distinguished themselves for the offer and adoption of forward-looking innovative solutions, with particular attention to the energy transition and the reduction of emissions, crucial aspects for aligning with the European decarbonisation objectives.
Within the category dedicated to suppliers for corporate fleets, Geotab received this prestigious award as the "ideal telematic solution for the management of all local and internationally distributed fleets". The "completeness and granularity of the data collected and analyzed", as well as the company's ability to range "for functionality and expandability on every type of vehicle" were particularly appreciated by the jury.
"We are very proud of the award received at the 2021 MissionFleet Awards, which further confirms the value of our solutions to support simpler, more effective and sustainable fleet management. In Geotab, with our global Research and Development team, we are constantly committed to analyzing customer needs and innovating our products, leveraging the most advanced technologies to give life to the telematics of tomorrow ", said Fabio Saiu, Director of Geotab Italy and Geotab's Leasing and Renting European Director.

Source: Geotab
Scania wins "Sustainable Truck of the Year 2022"
For the third time Scania, TTS Italia ordinary member, wins the Sty award which is awarded every year to vehicles that stand out for technology and sustainability. For the Distribution category, that is, for vehicles with a maximum capacity of 26 Ton 2 or 3 axles, the SCANIA P BEV prevailed over the other premium houses, demonstrating how a full electric vehicle can guarantee uninterrupted operation and the absence of local emissions.
The jury evaluated the vehicles in relation not only to emissions but also to the set of technical and technological elements aimed at optimizing performance, efficiency and productivity. The elements taken into consideration were the following: the engine and the type of fuel (Diesel, Hybrid, Gas, Electric); the transmission; security systems; comfort, connectivity; and finally, the general sustainability represented by specific elements such as the tare / payload ratio, the recyclability of the components, and the TCO.
The SCANIA 25 P BEV in fact testifies how Scania's determination in proposing solutions aimed at reducing and containing CO2 emissions has concretely made heavy transport more sustainable. The jury, made up of the Editorial Committee of the Vado e Torno magazine and Sustainable Truck & Van released the following reasons for the award: "By virtue of Scania's holistic approach to the energy transition, the 25 P BEV is neither a prototype neither an exercise in style, but a range of medium heavy electric already available on the market. In fact, you can choose between the P and L cabs, the lowered one with easy entry, then there are steps from 3,950 to 4,350 mm and configurations with 2 or 3 axes. While the e-Machine integrates the 310 horsepower engine (398 peak), the two-speed gearbox and 5 or 9 cooled lithium-ion batteries for a range of up to 250 km".
At the award ceremony, the award was withdrawn by Enrique Enrich, President and CEO of Italscania: "This award is further confirmation of the technological level achieved by Scania in the field of sustainable transport. A challenge that Scania has embraced for some time and which is giving us great satisfaction. Specifically, in the short and medium-range transport sector, electrified solutions are relevant for a wide range of applications, by virtue of the zeroing of local vehicle emissions, both polluting and acoustic ".
"The attribution of the Sty prize to Scania is proof of the fact that the urban and regional distribution, completely carbon free, is something more than a perspective for the next generations of drivers", says the Editorial Committee of the Vado magazine. e Torno and Sustainable Truck & Van.

Source: Scania
Targa Telematics launches Targa Smart Mobility, the new integrated mobility solution
Targa Telematics, the tech company specialized in the development of digital solutions in the telematics, smart mobility and mobility IoT platform field, and TTS Italia founding member, has presented Targa Smart Mobility, the solution that integrates all the various forms of shared mobility under a single platform.
With Targa Smart Mobility, mobility operators can optimize the travel experience of their users by providing an intuitive and fast user interface. This reduces the number of vehicles and facilitates the transition towards electric ones, with a significant reduction in C02emissions and the related environmental impact. Companies can also use the same solution to meet the mobility needs of their employees.
Amongst the services available, car sharing can be provided and managed in station-based mode, which is mainly chosen for corporate solutions as it allows employees to plan business trips by booking a vehicle in advance and for the required duration. Alternatively, car sharing can have free floating mode, often provided in addition to the former, by local authorities or by multi-utilities that manage the public mobility service and want to meet the various requirements of users, such as the possibility of using the vehicle when needed. Additionally, to sharing vehicles, vehicles such as mini-cars, bikes and scooters can be made available for micro-mobility. Lastly, the same platform can also integrate the energy component for managing connection with charging stations in the public or private network.
Targa Smart Mobility also integrates the carpooling service, which is increasingly generating interest in the market and allows the same journey to be shared by multiple users, mainly corporate ones, in need of travelling on the same route. For mobility operators, being able to access a platform that can integrate car sharing and carpooling leads to significant cost savings.
New forms of mobility are also becoming widespread in new areas, such as peer-to-peer, where the user can make his vehicle available to the community, generating revenue when not in use. This solution is proposed by specific long-term rental companies for the consumer market and by a number of insurance brokers. Moreover, this solution is also suitable for small communities, such as condominiums and hotels.
To make the use of Targa Smart Mobility even easier and more intuitive, the graphical user interface has been improved, focusing on the user experience and creating a new App which is completely customizable and available in several languages: French, English, Italian, Dutch, Portuguese, Spanish and German. Lastly, it is now possible to interact with the vehicle through Bluetooth, for faster communication with the vehicle, as well as to access services also in areas without data connection, such as underground car parks.
Moreover, in order to allow customers that use Targa Smart Mobility to fully make use of the service, Targa Telematics has developed a Business Intelligence tool that provides mobility operators with precise analyses which, starting from data collection and processing, can create new business opportunities. In this way, managers can constantly align their mobility strategy with the actual needs of their users.
"The Business Intelligence Service integrates with the Targa Smart Mobility solution and allows us to offer our customers an advanced and essential service in order to be able to intervene on the mobility strategy in a timely manner, based on certain and verified parameters" commented Roberto Bordin- Product Owner Smart Mobility of Targa Telematics. "The ability to analyse data is not new but, thanks to the Business Intelligence engine and to the metrics, designed for these new types of mobility, the clear information available allows the mobility operator to take data-driven decisions".

Source: Targa Telematics
The integrated ticket launches in the Campania Region: payments are via credit card thanks to the system developed by UnicoCampania and Almaviva
As of today, in Campania, it is possible to purchase an integrated ticket for public transportation via credit card and with the best fare for the trip automatically applied. Simplicity and cost-effectiveness: these are the principles that characterize this experiment with the new public transportation payment system, in accordance with the EMV (Europay Mastercard Visa) standard. The first phase of the experiment, commissioned by Consorzio UnicoCampania with TTS Italia ordinary member AlmavivA's technological support, involves the ANM and EAV metropolitan services, ANM's airport lines (Alibus), and Busitalia Campania's 119 line, with a foreseen extension to the entire Campania Region. Travelers, tourists, and residents who move about Campania can purchase a ticket for various public transportation services by simply placing their contactless credit/debit card or smartphone near the ticket validators located on board or in the entrances and exits to stations. A calculation engine then applies the best fare based on actual use, integrating the fares of the various companies that manage transportation across the region. This means that passengers can travel without worrying about buying a paper ticket in advance or figuring out which ticket costs less in terms of the route, its duration, the various means of transport involved, and the different companies providing service. There's no need to register on a website or pay any additional fees; a simple flick of the wrist is all it takes to have a truly integrated mobility experience.
The crux of the experiment is the fare calculation engine, based on MOOVA, the Almaviva platform dedicated to the world of transportation, which, through the use of specific algorithms, collects data regarding location, day, time, company, and vehicle, and calculates the amount to be charged to the debit/credit card, applying the most affordable fare for the traveler.
"The widespread presence of smartphones and the growing use of contactless credit cards, along with the increased speed and security of the internet, facilitate the creation of new ticketing systems that both revolutionize and simplify the traditional models we're used to," says Smeraldo Fiorentini, General Manager of Almaviva's Transportation & Logistics Division. "In Campania we're taking this first big step towards the mobility of the future, a mobility intended as a service that anticipates and satisfies the needs and desires of travelers. Almaviva already believed in this innovative model a few years ago and made a significant investment in order to create the MOOVA platform, which supports the various players in the mobility ecosystem."
"The consortium firmly believes in the importance of applying increasingly advanced technologies to the transportation sector," explains Dr. Gaetano Ratto, President of the UnicoCampania Consortium. "The introduction of Tap and Go is a clear sign of the desire to innovate the LPT world and make it more efficient. The medium-term goal for this project is to install a sort of ATM in the entrance and exit to every station, on which it is possible to use a debit/credit card. In fact, by doing the so-called Tap In and Tap out, the system will be able to calculate the most advantageous fare for the passenger based on his or her movements. This is why it is essential - and here we ask for travelers' attention - that the card always be used upon both entering and exiting stations, in order for the fare to be calculated correctly. The benefits for users, in terms of simplicity, security, and speed of access to services will be evident."
Source: Almaviva
Viasat and ENEA together to monitor the air
Now more than ever the environmental issue, and the consequent need to reduce pollution in cities, is a highly pressing matter. Recently ENEA (Italian Research Agency for Energy and Environmental Sustainability) and Viasat, TTS Italia ordinary member, have joined their know-how to develop a Platform for Monitoring Air Quality in Mobility, which aims to detect alert limits, measure air quality levels, map urban areas with evidence of critical points to inform citizens and analyse collected data for planning and managing future events.
The uniqueness of the proposal brings with it obvious advantages such as the accuracy and capillarity of the measurement and the opportunity of integration with other systems within the SmartCity solutions (e.g. Street Control by Viasat).
"For us at Viasat - comments Valerio Gridelli, Head of the Viasat Smart Connect BU - this is much more than a simple technological partnership. In a short time, we will be able to make available to Public Administrations and citizens a unique and indispensable tool for environmental control that can become a reference point for innovation in security and analysis of air quality in cities".
Source: Viasat
European ITS Congress: call for papers / special sessions / demos / technical visits open
From 30 May to 1 June 2022, the 27th edition of the European ITS Congress will be held in Toulouse, France, focusing on the theme "Smart and sustainable mobility for all".
The Call for Contributions for the technical program has been opened and the organizing committee invites all interested parties to submit proposals for papers and Special Interest Sessions (SIS) by January 24, 2021.
For more details, click here.
Furthermore, the Congress is also the ideal space for demonstrations, even on a large scale. Also in this case the Call was opened to send proposals.
For more details, you can contact:
Charlie Castellon – charlie.castellon@toulouseatout.com
TTS Italia at the Conference "Digitization of mobility and eticketing in the Campania region. Towards the PNRR and MaaS"
On 11 and 12 November, Club Italia - ContactLess Users Board and the Consorzio Unico Campania organized the conference on "Digitization of mobility and eticketing in the Campania region. Towards the PNRR and MaaS", which was held in presence in Naples, and which also saw TTS Italia among the keynote speakers.
The event was an opportunity to present the survey on the state of the art of the digitization of ticketing systems in the LPT sector, which was followed by the round table on "The technological situation of transport and mobility operators and institutions is adequate in Italy? What real prospects for the implementation of MaaS and Smart mobility systems? ", In which TTS Italia also took part, on 11 November.
•  Italia-Forio
Services for data management
• Italia-Moncalieri
Services for traffic control
• Italia-Napoli
Services for parking areas management
• Italia-Polesella
Services for data management




Autonomous Vehicles and Public Transport
25-26 January 2022, San Francisco, USA
For further information, click here →
14th European Space Conference
25-26 January 2022, Brussels, Belgium
For further information, click here →