N° 8
September 2021
—


TTS Italia is the Italian ITS Association founded with the aim to promote the development and deployment of Intelligent Transport Systems (ITS) in Italy.
The interview by Morena Pivetti

"MaaS in 2022, the metropolitan city of Milan as co-founder": Atm and digitalization projects in the interview with the general manager Arrigo Giana
In Milan it is a matter of months. The public transport company of the Lombard capital, Atm, plans to launch its Mobility as a Service in the course of 2022, with the metropolitan city acting as aggregator and third-party guarantor: "Milan aims to be one of the three cities chosen by the Ministry to start the experimentation of the MaaS4Italy project, we will go ahead in any case". In this interview, Arrigo Giana, general manager of Atm, talks about the path taken in Milan and his vision of the future and takes stock of the digitization of LPT companies, starting from the privileged observatory of the presidency of Agens, the Association of local transport companies belonging to Confindustria.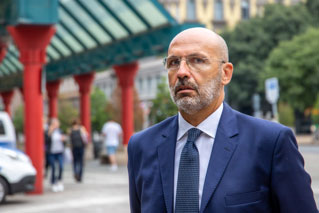 Inevitable, with the start of the lessons, open the interview with the challenge of the reopening of schools and the restart of the industry after the summer break. Are you ready?
I am confident, as Atm we have done everything possible. The surface network has been enhanced with 200 more vehicles for a total of 25,000 trips a day, thanks also to the use of private buses, including 120 shuttles only for students serving 32 institutions. With 8 additional trains, the metro offers 2,400 rides. We sanitize the cars several times a day and we have installed 4 thousand sanitizing gel dispensers. To the 380 employees who guarantee the management of travelers' flows and provide assistance, we have added 130 additional controllers for ground checks of protective devices and possession of the travel document.

And compared to a year ago?
I believe the situation is not comparable: today 80% of the population over 12 is vaccinated and the latest government guidelines for transport companies are even more stringent than a year ago. The capacity of the vehicles has been increased to 80% while previously we were at 50%. The table organized by the Prefect who led the spring reopening with the Pact for Milan intervenes on the timetables: staggering the entrances to the school, 70% of students at 8 and 30% at 9.30, makes commercial businesses flexible, starting between 9.30 and 10, asks public offices, banks and insurance companies to receive by appointment and recommends private companies to use smart working at least 50%.

The revision of the city's timetables could prove to be one of the few positive effects of the pandemic.
We hope, however, that this reflection will continue, that it represents a first step followed by others. For companies it is important to lower the hourly demand curve: the peak of traffic forces us to over-size the service, which is then not used for the rest of the day, with the related over-costs.

For the autumn, Istat estimates an even more massive return to the use of cars, with a further worsening of urban congestion and exceeding of polluting emissions, to the detriment of collective transport. What do you expect?
We should be around 65-70% of the passengers we were carrying before the pandemic. Too little. There is a reputation problem for buses and subways induced by the virus, not just an Italian problem: in Europe, UITP is thinking about how to relaunch public communication. If the restart goes well we will have a longer-term benefit.

We now come to MaaS, the heart of our conversation.
We have been thinking about it for some time, we think we can launch it in 2022. Some general considerations. The first is that we need to identify the right territorial perimeter: the successful cases in Northern Europe that we have studied serve a single metropolitan area, and we also work on the metropolitan area of Milan, in which we want to integrate all the different transport services, public and private. With the LPT as a backbone. Then there is the issue of the replicability of the integrated platform that will be built: these first projects must be scalable, reusable in other situations. We aim to make our MaaS a standard.

At what point are you?
We put the first step by involving the Metropolitan City of Milan as a founding entity with us, through Milano & Partners, an in-house company of the Municipality that brings together public and private companies operating in the area. It is the integrator, the public third party guaranteeing the operation, which involves the whole world of sharing mobility, from scooters to bikes to scooters to cars while parking is one of our activities. It is essential to combine public regulatory intervention with the push of the market: Atm will be the implementing body, with the involvement of other large public operators. For the definition of the business model we have used the advice of McKinsey & Company and we are selecting the technological partner. I would say that we are well advanced: it is now a matter of a few months.

Are you counting on being among the top three cities chosen by MaaS4Italy for experimentation?
We try, we hope to be part of the first group: otherwise we will go ahead with the project anyway.

Let's broaden our gaze to the sector and to digitization, another fundamental component of MaaS. As President of Agens, what is the state of the art of the LPT companies?
If we look at customer management as a whole, my assessment is that we are at the beginning. Many companies have their own app but the app is not having digitized, it is not an accomplished process. For example, as Atm Milano we have digitized the backbone of commercial activity, from information to ticketing, but sales on the digital channel are just 10% of the total while 90% of relationships remain on the traditional channel. More generally, the landscape is truly patchy: there are companies far ahead and others far behind.

Depends on what? Is there a division that passes through geography or dimensions?
The degree of digitization depends on the overall level of management of the company: companies with planning and development skills, in other words, companies that work well and provide a good service are the most digitized. There are others who face more critical operational situations and therefore have fewer resources to dedicate to digital. The pulverization of the sector, the presence of hundreds of micro-companies with economic and financial difficulties and perhaps with limited design skills. For this reason, when we were audited by Professor Bernardo Mattarella on the reform of the public transport sector, we insisted on the need to favor the concentration of companies, also preparatory to serious liberalization.

Can the funds for digitization made available by MaaS4Italy accelerate the process?
It is not so much a problem of resources as of planning capacity. The same applies to the huge resources available for the transition to electricity and hydrogen testing: adequate projects are needed to spend them. As for rapid mass transport systems: infrastructural equalization between North and South is fine but we need subjects capable of implementing it.

Last question, are customers ready for digitization?
Thanks also to the acceleration of distance learning and remote work, I think there is now a sufficient digital and IT culture in the country. But it is up to us to make digital tools simple and easy to use and I would say that we are not there yet. We have to evolve.

Isn't it that Google, Airbnb, Amazon, Telepass will eventually make the MaaS revolution?
Sure, why not? It's up to us to win the challenge.

Who is Arrigo Giana. Born in 1966. Manager with long experience in the transport sector, with solid expertise in the sector, both from a technical and economic-financial point of view. Since 2017 he has been General Manager of Atm where he has already worked from 2000 to 2013 and since 2006, as Director of Administration, Finance and Control, he has dealt with some of the main strategic projects of the Company. In 2014, he was appointed CEO of Cotral, a transport company of the Lazio Region, which he restored and which he left after having brought it back into profit and relaunched it from the point of view of service. Since 2018 he has been President of Agens - Confederal Agency for Transport and Services. In his professional career he has also gained experience in some multinational groups and in the field of management consulting. Graduated in Business Administration from Bocconi University in Milan, he is married and has two children.
Comark is a company specialized in the field of traffic monitoring and parking systems. Founded in 1994 as a consulting firm, it has then expanded and now takes care of the design, development and production of products for the road traffic, parking and cycling lanes market.
Nowadays Comark is present in over 45 countries, across 6 continents with a well-developed sales network.
To meet the highest standards of quality, Comark is ISO9001 certified.
—
Interview to
FEDERICO VINCENZI – CEO OF COMARK SRL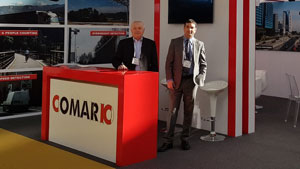 The founder Gianni Vincenzi and the CEO of Comark Federico Vincenzi at INTERTRAFFIC.

Comark has received on April month the Industria Felix award. Comark has been appointed among the 15 companies of the Friuli region to be the best one in management performance and financial reliability. How did you achieve the above-mentioned result?
In 1996, the founder Gianni Vincenzi, my father, set up a consulting company that dealt with technological systems for traffic. A few years later I joined him too and together we realized that the Italian market urgently needed a product designed specifically for traffic. This is how the idea of ​​developing sensors for this sector was born. My father continued to take care of the Sales Department, while I developed the software and a relative of ours implemented the electronic and mechanical part.
Our place of work? Our home's garage.
Since that time, we have continued to grow both in terms of staff and turnover, we moved into a real office and in 2019 we bought our current headquarters. I would say that the secret is to believe in it, to work hard, to make the company grow organically. Today we can proudly say that Comark is financed by its own means, and we have never applied for loans.

Can you explain in very simple words what Comark does?
In very simple words, Comark deals with "counting" and "classifying" the vehicles traveling on the roads and highways both for statistical purposes and to make the lives of drivers more sustainable. We have several systems that allow you to prevent possible queues, rather than avoiding that a heavy vehicle collides against a bridge or an underpass or even a car colliding on the highway.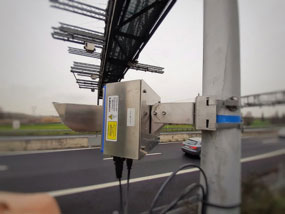 What are the best-selling products and systems?
The best-selling products are traffic detection sensors that use laser scanner technology that creates a high-definition three-dimensional image of vehicles (called "point cloud"). Our software is able to analyze and automatically determine the size, type of vehicle and speed.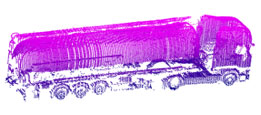 Why choosing the technology mentioned as "LIDAR or Laser Scanner"?
Lidar or laser scanner sensors are very precise, also thanks to our software analysis with artificial intelligence. The sensor classifies the type of vehicle. Differentiate a car from a bus, a simple truck or a truck with a trailer. The sensors can also be used in highways or to avoid accidents (for example, to detect trucks that are too high to pass through a tunnel or under a bridge).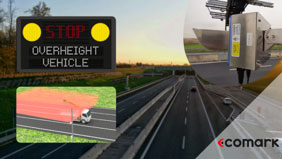 What impact had the COVID – 19 on Comark?
Contrary to many companies, Comark made several investments during that time. In fact, during the first stage of Covid pandemic, we have developed a people counter for shops, supermarkets, swimming pools, canteens and companies. The system displays, through a monitor, the entrance and exit of people and once the maximum capacity has been reached, it sends a signal to the control center.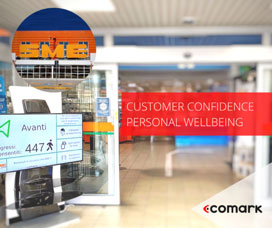 We also took the opportunity to further develop the sensor for cycle paths, also known as "bikecounter" which detects the passage of cyclists and distinguishes them from pedestrians. Another strong point: cyclists can pass even in close groups and the sensor is equally able to count them correctly.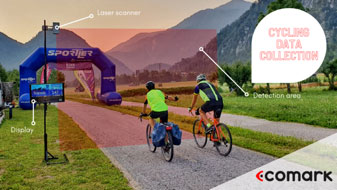 Are the sensors used only for traffic purposes?
Absolutely not. For some years we have been selling sensors for detecting parking spaces occupied in external car parks to inform drivers where they can find space, but also to monitor parking time. They are new generation sensors that use an IOT (Internet of Things) communication technology that allows data to be transmitted at a greater distance, with a reduced power consumption, compared with the traditional technologies.

What are the strategies used by your company?
We have always tried to develop new technologies. We try to never stop research and development. In fact, we have several ideas and products in work in progress that will enrich our portfolio. In addition, we have been collaborating for years with universities, for example with University of Udine and with Politecnico di Milano, to bring new skills to the company such as, for example, the artificial intelligence that we use in our software. Of course, we also make use of technical advice.

What are your main markets?
Italy is a very important market. Over the past ten years we have worked hard to find new markets abroad. It was not easy, especially at the beginning, as we had limited resources and the brand COMARK was not known. I often had to travel for several weeks in which, once I made the intercontinental trip, I also moved to 4-5 countries. We gradually managed to create a network of partners and customers in Europe, Asia and South America. We are also starting to operate in Africa. In the meantime, COMARK has begun to be known and a positive aspect is that a sort of virtuous circle has been created, the more you are present abroad, the more references there are to bring to the new countries you want to reach.

What are your short- and long-term projects?
In the short term, we want to strengthen our presence in the "Free flow" market. This is a new technology used for the motorway toll that allows you to apply the rate due without having to slow down simply by detecting the type of vehicle that passes under the toll. This eliminates the need for toll stations and avoids queues.
The biggest technological challenge is to count and classify with very high precision, with vehicles passing at high speed, doing it reliable in all traffic and weather conditions.
Another important milestone will be to enter the market for safety systems, always in mobility. In fact, we are developing a sensor that will increase the safety of pedestrians, cyclists or people with scooters who pass through the streets or cycle paths. We would like to give our contribution in limiting as much as possible accidents due to limited visibility of these subjects.
In the medium to long term, we would like to take advantage of our traffic sensor know-how and transfer it to other areas as well.

What is your greatest strength?
Surely the fact of having a young, very prepared, competent and concrete team that is giving assistance and support to the customer almost in real time, helping him in the various project phases. For example, we initially supply products, then by consolidating relationships and acquiring the customer's trust we supply systems up to commissioning solutions to be developed in collaboration with our main customers. For us it is very important to provide a good service to customers both in the first contact phase and in the installation and post-supply phase. This feature is often recognized by large customers / system integrators who reward us for the timeliness and quality of the service.

Hexagon introduces HxGN Mass Transit to improve public transportation operations
System optimizes field operations and monitoring of assets through 3D, AI and mobile capabilities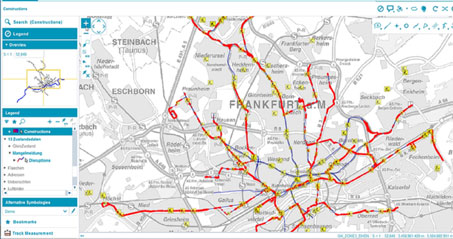 Hexagon's Safety, Infrastructure & Geospatial division introduced HxGN Mass Transit, a geospatial transportation infrastructure management system with 3D and AI capabilities for visualizing and analyzing transit and rail assets and operations. HxGN Mass Transit serves as a single source of truth for infrastructure data, enabling rail-bound and transit operators to easily inspect, validate and share information on the fly.
HxGN Mass Transit combines asset and spatial data from various business systems into an integrated system, allowing operators to visualize and analyze their entire network and services. Additionally, it reduces data duplication, provides access to accurate and up-to-date information and delivers greater efficiency for managing data, workflows and transit networks and operations. 
HxGN Mass Transit is already delivering benefits to public transportation organizations.
"Every day, we transport more than 900,000 passengers around Zurich on our 510-kilometer network with 75 tram and bus lines," said Daniel Steger, head of electrical infrastructure, Zurich Public Transport. "Maintaining our infrastructure is vital. HxGN Mass Transit will allow us to monitor rail tracks, overhead cables and the condition of bus stops to ensure we keep the citizens and visitors of Zurich moving."
"HxGN Mass Transit is an essential tool for managing our assets," said Dominik Rabenau, head of data management at VGF Frankfurt's infrastructure division. "The mobile application provides easy monitoring and the ability to update information of our timetable displays located at all stations, platforms and stops."
Typically, transportation agencies must rely on different data sources spread across multiple systems, departments and formats. This prohibits the ability to view data in real-time, making it difficult to gain a holistic view of asset conditions and coordinate maintenance.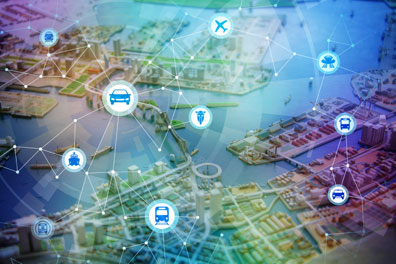 Built on top of Hexagon's M.App Enterprise, HxGN Mass Transit overcomes these challenges. It goes beyond a simple map, providing an advanced digital twin of a city's entire public transportation network – from track, stops and switches to construction sites, ticket machines, benches and garbage cans. It offers capabilities and workflows for supervisors, analysts, asset and operations teams and others.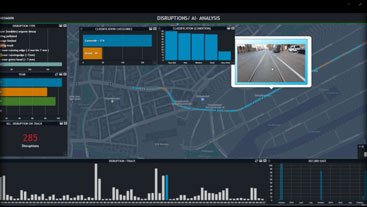 "Urban population growth, increasing demand for mobility options and a greater focus on sustainability have driven interest and investment in public transportation," said Steven Cost, president, Hexagon's Safety, Infrastructure & Geospatial division. "By improving the ability to visualize and understand networks in real-time, HxGN Mass Transit provides a solution to the global demand for more efficient and effective public transportation." 
HxGN Mass Transit is available worldwide now. To learn more, visit www.hexagongeospatial.com/products/solutions/hxgn-mass-transit.
To see a demo of HxGN Mass Transit and learn best practices for managing data, workflows and transit networks, attend the session "Driving Smart, Real-time Data Through Public Transit Systems" at the HxGN LIVE Resiliency Series, a free virtual event focused on helping critical service providers achieve greater resiliency in operations. Register for the event here.

We have had a long full of this!
It's time to do something *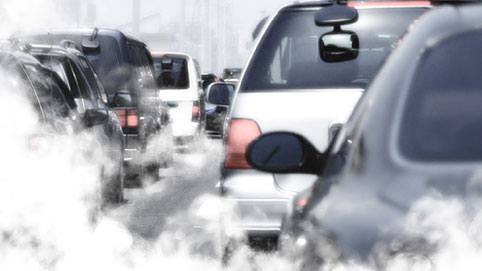 We all know: air pollution is harmful to both the environment and health. A phenomenon that has become increasingly chronic, has grown almost exponentially, which is not only synonymous with traffic congestion and economic damage (which comes to weigh up to 1,500 euros per citizen annually), but also health emergency counting about 60 thousand premature deaths due to air pollution, with an economic damage that exceeds 142 billion euros per year.
The Mal'aria (bad air) 2021 report, by Legambiente, is worrying: about 90% of city dwellers are exposed to concentrations of fine particulate matter (PM2.5) above the permitted levels and 40% of administrative towns are outlawed with daily concentrations of fine dust (Pm10) beyond the limits established by law. The data obtained during the COVID19 health emergency period, which saw a 68% decrease in fine particles during the lockdown period, confirm this phenomenon.
Now imagine all those people servicing the community - such as Local Police officers, law enforcement agents, workers, and road maintenance workers, to name a few - immersed in urban traffic, forced, to carry out their work, to stay every single day for several hours, in the midst of smog breathing those subtle fine substances. And that is why, for everyone's health, measures must be taken on the issues of pollutants.

But to tackle the problem of atmospheric pollution, to embark on a sustainable path in the era of the Smart City, the first step is to understand it or, better, "make visible what is invisible".
This is why SELEA has started to think about how to make the most of its technology, already present in many cities, by developing solutions (software and hardware) useful for collecting data and making the invisible visible. Through intelligent cameras, sensors and software, it is now possible to make the following measurements:
1. control of PM2.5 and PM10 concentration levels;
2. analysis of the different pollutants emitted by vehicles
3. mapping of areas
Let's look at them in detail.

1) Concentration levels of fine dust
Established by the European standard UNI EN1234:2014, the term PM identifies the type of particulate. PM 2.5 refers to particles having dimensions smaller than or equal to 2.5 microns, while PM 10 refers to those having dimensions of 10 microns. The lower the number used to indicate fine particles, the more dangerous it is for human health.
While PM10 only reaches the bronchi, trachea and upper respiratory tract, PM 2.5 is able to penetrate the pulmonary alveoli with potential diffusion into the blood, therefore they are considered more dangerous. The UNI EN12341 standard establishes that the limit threshold value for the presence of fine dust in the air is 50 µg/m³. In many cities, concentrations of almost 200 µg/m³ have often been found at certain times of the year.
Some studies have shown that the probability of contracting cancer increases by over 18% with values that exceed the maximum threshold of just 5 µg/m³.
SELEA has integrated an external PM2.5/10 sensor in its license plate reading cameras - used in the area of crime prevention for the security of the territory - with the aim of analysing the pollution index, as you can see in the image below.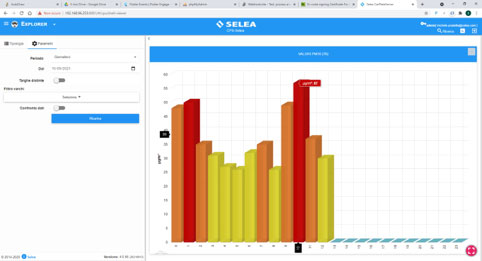 2) Analysis of pollutants
It is well known that gasoline cars emit more carbon dioxide (CO2) than diesel ones, although at the level of toxicity for humans, diesel emits more particulate that is deposited on internal organs, causing long-term respiratory problems. CO2 is a highly irritating element and can trigger diseases such as tumours, asthma, rhinitis, bronchitis, allergies, as well as making the blood thicker and viscous, causing problems to circulation. CNG cars also pollute and they release a large number of dangerous particles associated with cancer, Alzheimer and heart and respiratory diseases, while LPG cars emit less particulate matter but much more CO2 than petrol ones. Therefore, for an estimate of harmful substances, SELEA has developed a solution capable of giving a precise analysis, by reading the license plate, make and model, fuel class (and therefore of emissions) of the vehicles circulating in the city circuit, as highlighted in the image below.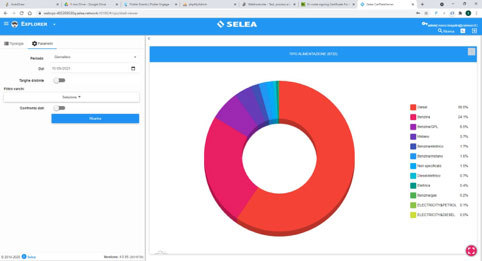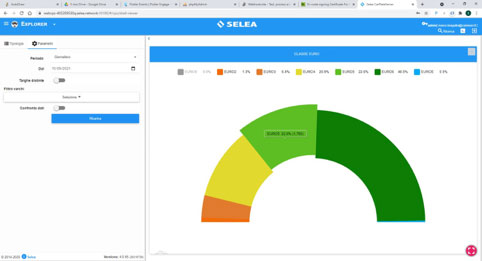 Together with this analysis it is also useful to understand the EURO class category of the vehicles on the road. In fact, the punctual analysis of the EURO class is also associated with the type of fuelling of the vehicles.
3) Mapping of the areas
Most cities have monitoring systems with sensors miles away from each other, a condition that certainly does not help to correctly understand the phenomenon of air pollution. In fact, the latter can be very different from one area to another. But thanks to the development of a special tool, which analyses the "origin and destination" plate reading, it is possible to make a more accurate analysis of the pollution in the various areas and arterial roads.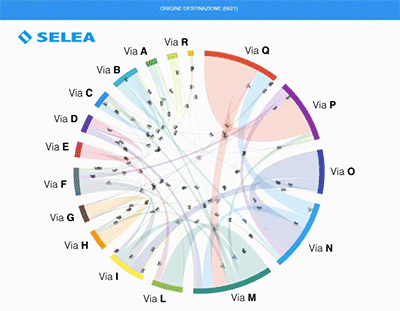 In conclusion, SELEA intends to be an active part towards the new developments of the Green economy, trying to adapt its solutions to the new urban and social needs. And we can do it because we hold 100% of the internal know-how for the development of both hardware and software products and this offers customers the opportunity to receive updates and additions, which allow to give new life to the products already purchased with significant economic savings. (avoiding to throw away the old and buy the new) with a strong impact on the reduction of the carbon dioxide emission chain and the formation of mountains of electronic waste, today more than ever, that is being generated.
Watch the video

www.selea.com
* Quote taken from the Legambiente website on the Mal'aria 2021 report: We have had a long full of this! Stop the smog.
Smart City: two new projects by Viasat
After the summer break a period particularly rich in news for Viasat is coming up. An important acknowledgment for innovation and focus on the territory concerns two proposals both targeted to the Smart City market: Move-In and Eagle Eye.
Let's see what it is.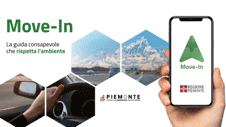 Move-In (Monitoring of Polluting Vehicles): is an innovative project of the Lombardy Region, extended from August 2021 to the Piedmont Region, which promotes new ways of controlling vehicle emissions by monitoring mileage. It is an approach to environmental issues that takes into consideration the actual use of the vehicle, with a view to social equity, and rewards virtuous driving styles. A certified black box, installed on the vehicle, collects the necessary information, which is then transmitted electronically to a dedicated technological infrastructure that is able to manage traffic restrictions on the most polluting vehicles. The service of measurement and transmission of travel data is provided by Viasat, one of the providers of telematic services (TSP) accredited to the Move-In project.
https://www.viasatonline.it/movein/

EAGLE EYE is an experimental project, launched by the Municipality of Milan on 31 August 2021, which takes advantage of the Viasat Street Control solution, a high-resolution camera installed on some of the Local Police cars and connected to the database of the Italian Motor Vehicle Authority. Thanks to the use of cameras with dual optics, infrared and colour, it is possible to capture up to 100 number plates per second, day or night, to verify in real time whether vehicles in transit or parked are in order with insurance coverage, inspection or have been stolen. Viasat, through ATM Milano, is the technological partner of this initiative, providing the technology of Street Control, a monitoring tool for road safety which is now consolidated and used by the Police Force in many Italian municipalities.
https://bit.ly/3nBJloM
C-Roads Italy: the tests for the road transport of the future have started
In recent days, road tests of the system were carried out on the Autovie Venete network, TTS Italia ordinary member, which will allow heavy vehicles equipped with assisted driving to communicate with the motorway thanks to Wifi and 4G technology. The tests - which took place in two sections, on the A57 between Terraglio and Venezia Est and in the 3-lane section of the A4 between Venice East and San Donà di Piave - involved a total of two Iveco articulated lorries, one from Codognotto and the Politecnico di Milano. The results are being validated. The tests are part of the C – Roads Italy project, presented in Trento at the Autostrada del Brennero headquarters (partner together with Autovie and Cav). The national project, which is part of the European testing program, aims to improve the freight transport system and traffic management, increase road safety and reduce environmental pollution. The latter above all is a key issue in this phase of commercial revival after the pandemic in which heavy vehicle traffic is seeing a resumption. Numerous partners of TTS Italia are involved in the experimentation: IVECO, the Politecnico di Milano, TIM, as well as the Fiat Research Center, Azcom Technology, Codognotto Italia SpA and the Ministry of the Interior, with the coordination of the Italian Ministry of Infrastructure and Sustainable Mobility and Nicom srl. In particular, in the first phase, the staff dealing with innovation in the Information Technology sector of the dealerships developed special software to harmonize the communication methods of the radio centers with the road side transmission infrastructure. An essential evolution for communicating with heavy vehicles and cars equipped with specific on-board instrumentation. In addition, the three dealerships have installed, along part of their network, specific antennas capable of transmitting the traffic events being tested to the vehicles. Over the last year, Autovie Venete has placed a total of 22 devices for a total of 44 kilometers. The first road tests involved some events such as construction site warnings, the presence of stopped vehicles in the emergency lane or in slow motion. The events managed by the Radio Information Center were sent to the antennas and then - in the form of a coded message - to heavy vehicles equipped with special on-board instrumentation. During the tests, the two Iveco articulated lorries also experimented with platooning, a method that allows these vehicles connected to each other via the wireless system to travel in columns and to choose the optimal route, the speed to be adopted and the distance to be maintained. in maximum safety and with a reduction of the environmental impact. In the next few days, other tests will follow on the Autovie Venete network with the involvement of the Fiat Research Center. The C-Roads Italy project on which Autovie has invested 500,000 euros in three years (50% funded by the European Commission through the Connecting Europe Facility program) will end in December 2021, but the next phase of the initiative is already ready to start (C-Roads Italy 3) which plans to install antennas by Autovie also along the new third lane section of the A4 (from Alvisopoli to Gonars) by 2022 and therefore to extend the service being tested.

Source: Giornale Nord Est
DigITAlog: Paying the anchor fee has never been easier
The IT system dedicated to the dematerialisation of the anchorage tax management process is underway in the Port of Ravenna. The test phase of the system starts, which will last about two weeks, in which the software will be used in parallel to the paper process, to verify that everything happens correctly, once the pilot has ended, exclusively in the Port of Ravenna, you can definitively say goodbye to the card , to make room for a full digital process. The software is entirely made in digITAlog, the IT team of the implementing body of the Ministry of Sustainable Infrastructure and Mobility, and TTS Italia ordinary member brings home a great success, thanks to the teamwork with the Port System Authority of the Central Northern Adriatic Sea, the Port Authorities of Ravenna and the Association of Shipping Agents and Mediators. This system will allow all Port System Authorities to have a complete and real-time view of the collections of the Anchor Taxes of their own pertinence and among its evolutions integration with the Customs Agency systems is foreseen, to automate also the processes for issuing payment receipts.

Source: digITAlog
Geotab launches Cold Chain solution for transport, to help optimise last mile delivery
Geotab, a global leader in IoT and connected vehicles and TTS Italia ordinary member, launched Cold Chain, a new offering for HGVs and vans with refrigeration capabilities that is designed to help resolve the challenges of ongoing temperature control and monitoring of refrigerated vehicles. Available as a new Add-In for the MyGeotab platform, the transport and logistics sector can leverage Cold Chain to help ensure they are compliant with temperature regulation requirements and that goods like groceries and pharmaceuticals, including vaccines, are delivered in optimal condition. 
Geotab's Cold Chain Add-In enables two-way communication between a driver and fleet manager, allowing any refrigeration-related issues that occur en-route to be analysed in near real-time. The remote diagnostics and telematics insights provided by Geotab enables organisations to keep their fleet moving by providing detailed and timely information on vehicle health, engine system faults and more. With this new Add-In, fleets can benefit from more accurate in-transit data to ultimately help reduce waste by ensuring goods are kept at the correct temperature throughout their journey and are transported in a safer environment. 
Geotab's Cold Chain is designed with last mile delivery in mind, moving goods from a transport center to the final delivery destination. Last mile delivery operators are responsible for ensuring goods travel to and reach their destination as quickly and efficiently as possible, and in optimal condition. The pandemic has caused an increase in last mile deliveries that are likely to persist. In 2020 alone, business-to-consumer parcel deliveries rose by around 25%. A report from the World Economic Forum suggests that part of this increased demand will be durable, with at least 10%-20% of the growth remaining post-pandemic.
 "The past 12 months has seen an increase in demand for last mile delivery for the likes of food, grocery, pharmaceuticals etc., accelerated by the COVID-19 pandemic," commented David Savage, Associate Vice President, Geotab UK & Ireland. "As such, last mile delivery has become a large focus area for the transportation industry. Transporting perishable goods has always been a challenge, and there are many compliance levels to meet throughout the product journey. Geotab now offers a more comprehensive solution that extends beyond compliance, providing fleet managers and drivers with access to near real-time data to help benefit their bottom line." 
Today's launch of the Cold Chain Add-In also serves as a strategic complement to the Geotab Truck Solution for Europe, which launched last year. Connecting heavy goods vehicle (HGV) fleets to one of the most advanced telematic platforms on the market, the Geotab Truck Solution for Europe provides businesses with access to an open, fully customisable and data-driven platform that helps meet the evolving needs of HGV fleet managers in Europe. Now, with the launch of Geotab's Cold Chain Add-In, the Truck Solution includes the added benefit of a refrigerated transport management option.  
Temperature control and refrigerated vehicle monitoring is now available to customers through the Geotab Cold Chain Add-In via the Geotab Marketplace.
For more information, visit: www.geotab.com/uk
Source: Geotab
Pirelli and Geotab join forces to help reduce management costs of commercial fleets
Pirelli and Geotab, a global leader in IoT and connected transportation and TTS Italia ordinary member, announced a new partnership that aims to help commercial fleets across the globe improve their operating efficiency and sustainability. Now available on the Geotab Marketplace, the Pirelli CYBER Fleet system will enable Geotab customers to reduce tyre-related operating costs while also improving fuel consumption and lowering harmful emissions. The new integrated offer will be rolled out initially in key European markets, before being extended to the United States, Canada and Brazil.
Pirelli CYBER Fleet is an enhanced tyre specific fleet management solution that utilises a sensor on the inside of each tyre to measure and analyse both temperature and pressure data.  This data is gathered and relayed to an app that can be downloaded onto a tablet or smartphone and sent to Geotab's digital platform, MyGeotab, which in turn helps simplify the monitoring process for daily truck and tyre checks. This integrated solution also allows for vehicle insights to be viewed remotely,  which can help  fleet managers quickly identify potential issues, contributing to improved efficiency and better planning for necessary vehicle maintenance. The partnership between Pirelli and Geotab enables efficient tyre health monitoring which will help customers improve productivity, enhance driver safety and increase the overall health and longevity of a vehicle. 
Daniel Gainza, Pirelli Tyre as a Service Chief Operations Officer, said: "Pirelli's CYBER Fleet technology allows us to integrate tyres within a platform of services based on connectivity, in a way that is extremely simple to use. By partnering with Geotab, Pirelli Tyre technology is proud to be among some of the top solutions for vehicles and fleets helping to optimise fuel consumption and reduce emissions."
 "The addition of Pirelli CYBER Fleet on the Geotab Marketplace will provide fleets with access to a focused safety solution specifically designed to support tyre health and as a result, the longevity of their vehicles," said Stefano Peduzzi, Vice President, Technology Solutions and Operations Europe, Geotab. "Geotab prides itself on providing our customers with access to best-in-class tyre pressure monitoring tools that can help them reduce the need for unexpected tyre maintenance, and in turn aid in improving driver safety and increasing overall  fleet efficiency."
 
Source: Geotab
Safety21 acquires Kapsch TrafficCom Italia, reaffirming its leading role as an enabler of Smart City and Smart Road solutions for local councils. Motus21 is born.
Safety21 S.p.A., an Italian company and leader in the road safety market, owned by the CEO founder Gianluca Longo and a host of institutional investors, and TTS Italia supporting member, is announcing the completion of its acquisition of 100% of the share capital of Kapsch TrafficCom S.r.l., the Italian branch of Kapsch TrafficCom AG, an Austrian company listed on the Vienna stock exchange, a globally recognized provider of technological solutions for mobility.
Now celebrating its 10th year, Safety21's initial internal growth phase has seen the success of its proprietary cloud platform IoT TITAN®, as well as innovative infrastructure proposition models for municipalities through public-private partnerships. With this transaction, the company further strengthens its series of acquisitions at the national and international level, intended to incorporate core links in the chain of services offered by the Group to the public bodies in the smart mobility market.
Kapsch TrafficCom Italia, TTS Italia ordinary member, has been a leader since 2008 in the manufacturing, sale and maintenance of IoT for traffic offense detection, with a particular focus on access control within Limited Traffic Zones (LTZ). The transaction now represents an additional step in Safety21's expansion, broadening the range of cutting-edge IoT technological solutions and scalable and innovative outsourcing services offered to public bodies and police forces.
Kapsch TrafficCom Italia, now Motus21, currently operates throughout the country with 416 LTZ gates in over 60 Italian cities, including many large metropolitan centres. The transaction will allow Safety21 Group to serve over 300 public bodies, with an installed base of over 700 active and operational enforcement IoTs throughout Italy.
Gianluca Longo, CEO of Safety21: "The acquisition of Kapsch TrafficCom Italia, which has become Motus21, represents a natural path of expansion for Safety21 in the smart mobility world. Motus21 will allow us to play an increasingly prominent role for local councils, offering IoT solutions for law enforcement and monitoring in the local area, with a view to improving traffic flows and eco- sustainability as envisaged by the National Recovery and Resilience Plan. The acquisition of Kapsch TrafficCom Italia is a highly significant first step in our partnership with Kapsch TrafficCom AG, an internationally renowned player in the sector."
Georg Kapsch, CEO of Kapsch TrafficCom AG, complements: "Kapsch TrafficCom has resolved to concentrate its strategic focus on four core areas in the future. This focus has led us to sell Kapsch TrafficCom Italia. We are handing over our branch to a successful Italian company, which will manage it adeptly and we are convinced that it will fit perfectly with Saftey21's operations. In future we will cooperate with Saftey21 to jointly seize opportunities in Italian cities and abroad." Safety21 was supported in the transaction by the advisor Itom Invest while the legal aspects were handled by Grimaldi for Kapsch and Orrick for the buyer. The banks involved, a pool made up of Banco BPM and MPS, were followed by Legance.

Source: Safety21
Targa Telematics mentioned in "Telematics for rental and Leasing Fleets" report from Berg Insight 
Targa Telematics, tech company that develops technological solutions in telematics, smart mobility and digital IoT platforms, and TTS Italia founding member, has been mentioned in the new Berg Insight market report: "Telematics for Rental and Leasing Fleets" among telematics key players in this field. 
Leading firm in telematics, both short-term and long-term market rentals and leasing industries are expected to thrive with a forecast of growth of 10.5 million by 2025 across Europe and North America, with a total of 228.000 car sharing fleet.  
By 2025, telematics' penetration rate on the total number of rental vehicles in Europe is expected to rise from 30,2% in 2020, to 80.5%. Moreover, with regards to corporate carsharing telematics market, it is expected that by 2025 there will be 135.000 vehicles compared to 68.000 in 2020, with revenues for 519 million euros worldwide.  
As a result of fleet operation managers' interest in tracking, monitoring and maintaining their vehicles' value, Targa Telematics enabled a range of services such as stolen vehicle recovery and fleet management for internal processes to key-less access services. The company is also heading towards multimodal shared mobility solutions, including bike sharing telematics, and offers a specific module for electric fleet management that integrates booking and billing. Electric vehicle management offers on-board equipment that includes a telematics device with an OBD reader and user recognition systems in order to increase security.  
Targa Telematics has over twenty years of experience in the telematics industry and fifteen in the rental industry in which, at European level, at the end of 2020, counted around half a million installed assets. Other than Europe, the company also operates in the United States, Asia and Oceania.  
 After entering the car sharing market in 2014, the company extended its technological know-how to the smart mobility market, supporting clients in the realization and management of their own solutions, amongst which car sharing, where, at the end of 2020, Targa Telematics served more than 6,000 car sharing vehicles, an important number that is constantly growing month after month.  
Nicola de Mattia, CEO at Targa Telematics, commented: "As data suggests, in this evolving scenario the rental market will be significantly thriving in the next five years. At Targa Telematics we have demonstrated that we have a consolidated experience in this sector. We will maintain this consistent growth, dedicating all our efforts towards our clients, supporting them in their rapid development in order to be ahead of the competition in the market".  

Source: Targa Telematics
Targa Telematics for Compass Rent: a new rental formula
Compass Rent, the new company of Compass Banca Spa specialized in long-term car rental, has chosen the technological innovation of Targa Telematics – a tech company specialized in the development of digital solutions in the fields of telematics, smart mobility and IoT platforms for mobility operators, and TTS Italia founding member – to rapidly develop a new business model: an innovative rental formula that allows users to choose from a wide range of used and zero km cars available at affiliated dealers.
Thanks to more than fifteen years of experience with the main short and long-term rental companies, Targa Telematics provides its IoT platform and its hardware and software technologies to enable Compass Rent to launch this innovative rental service, in which dealers take on a fundamental role as suppliers of mobility and not just of vehicles.
In particular, Targa Telematics' digital solutions allow Compass Rent to:
- ensure the preservation of the value of the vehicle, the reduction of the risk of theft and misappropriation through the Stolen Vehicle Recovery service provided by Targa Telematics' Control Rooms located throughout Italy and Europe;
- reduce TCO by optimizing third-party liability insurance policies;
- check the condition of its fleet through an effective monitoring of routine and extraordinary maintenance, encouraging proactive actions by dealers towards customers, such as planning the interventions to be carried out;
- ensure the safety of the vehicle, the driver and the passengers by providing the Private E-Call service, which involves the Control Room calling the customer, in case the on-board device detects a significant impact, in order to send help or a tow truck;
- allow drivers to always have useful information at hand on their vehicle, such as fuel level, mileage, vehicle location, etc., in real time in their App.
Moreover, Targa Telematics supports Compass Rent and dealers during all phases of the car rental service, providing a portal to view the entire management flow, from estimate to order, from device installation to testing, as well as assistance and training for dealer technical personnel.
"In a constantly evolving context such as that of mobility, the role of dealers is increasingly fundamental and strategic in order to direct end consumers towards the best solutions." said Alberto Falcione, Targa Telematics Sales VP . "Like Targa Telematics, we want to expand our ecosystem of partners, increasingly including the dealer who, in our opinion, will continue to have a preferential relationship locally with the end customer. The partnership signed with Compass Rent goes precisely in this direction and we hope that in the future it can evolve with the integration of new services, to respond even better to the evolving needs of end users".
"The analysis of the market and of driving behaviors is fundamental in the long-term rental market because it is able to offer innovative and differentiating services in favor of dealers and customers. – said Nicola de Cesare, Compass Rent General Manager. In particular, being able to count on an advanced platform throughout the entire rental process will allow dealers to expand new business opportunities, while customers can count on a fast, safe and worry-free service. In this perspective, the collaboration with Targa Telematics allowed us to structure a technologically advanced platform, which, at the same time, guarantees speed in the automation of processes and maximum protection in the management of our customers' data" concluded de Cesare.

Source: Targa Telematics
Tiemme: the automatic passenger counter arrives on city buses
The commitment to technological innovation at the service of its users by Tiemme, TTS Italia ordinary members, takes a further step forward.
The company, one of the very first in Italy, responds to the invitation of the Tuscany Region and launches a new technology that allows the activation of the automated passenger counting information system on board the Grosseto urban fleet, as a further upgrade of its services, on the eve of a resumption of the school still conditioned by the persistence of the provisions that limit the capacity on board the bus due to the need to fight the Covid-19 pandemic.
Twelve urban vehicles in service in Grosseto were equipped with an electronic passenger counting system based on cameras located on the inside of the roof of each vehicle and in the center of each entry / exit door. The system is designed in such a way as to identify the shape of the person getting on / off the vehicle and, consequently, to ascertain the actual ascent / descent when the doors are closed. In this way, thanks to the AVM system terminal on board, a luminous LED for the driver (green, low load; yellow, medium load; red, high load) will inform about compliance with the maximum transportable threshold according to the current law and therefore with respect to the filling characteristics of the single medium.
From the users' point of view, as soon as the passenger counting system generates a high filling level during the service (full bus), again through the Avm system, information will be automatically generated on the electronic panels outside the bus that usually indicate the line or direction of the vehicle, as well as on the stops equipped with electronic poles and scoreboards and therefore on the Tiemme Mobile 2.0 App.
The same information will also be transmitted to the company control center, so as to generate an automated report of passengers boarded / disembarked at each stop of the line / journey concerned and to compose a precious logbook to monitor the service and evaluate any interventions.
The Tiemme information system was developed internally by the company following a work that took about 5 months to implement, with the collaboration of the Avm system suppliers, Swarco Mizar, TTS Italia founding member, and electronic passenger counting (Ameli).

Source: Grosseto Notizie
Digital Italy Summit 2021: the digital resilience, 5° edition - 18-20 October 2021
Digital Italy Summit 2021, also under TTS Italia patronage, represents a unique opportunity for companies and organizations interested in sharing their technologies, their visions and their achievements, and for anyone interested in learning more about the topic of Digital Innovation and Ecological Transition in our country.
A moment of synthesis and sharing of the most interesting experiences we have lived during this dramatic year. It has to be seen as an opportunity to discuss the prospects of a restart fueled both by the profound transformations that have taken place in this period, and by the impact of the incremental investments of the Plan National Recovery and Resilience.
Check out the gallery of the speakers: https://bit.ly/digitaly2021_Speaker

Three days event, Find out more!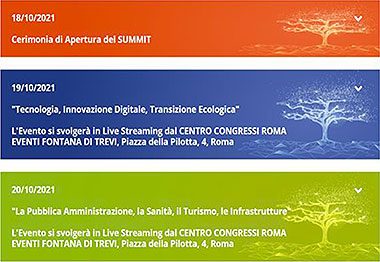 Digital Italy Summit Speakers: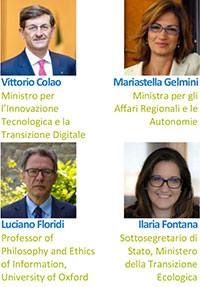 Program: https://bit.ly/2UbdRKa
Register now: https://bit.ly/36MlwAZ
SAVE THE DATE! WEBINAR - Funding for the digitalization of transport - 21 October 2021
On 21 October 2021, at 3.00 pm, the webinar "Funding for the digitalization of transport" will be held.
The event will be an opportunity to present the guidelines developed within the TTS Italia Working Group of the same name, coordinated by Fabio Nussio of the Rome Funding Department for Mobility Services.
The Working Group was born from the desire to make people understand how to fully exploit European and national funds, reversing the trend that sees Italy at the bottom of the ranking for use of resources, focusing in particular on financing for smart mobility.
The document represents the end of a shared path that lasted about a year, and during which numerous funding opportunities in the field of transport and mobility were discussed and proposed, including ReactEU, PNRR and Horizon Europe, to name a few.
The guidelines are intended to be a concrete support tool for public bodies, institutions and private individuals in order to make the most of national and European funds in favor of mobility and transport.
More details will follow.
"Road infrastructure congestion monitoring" project: the meeting in TTS Italia
On 27 September, in Rome, at the headquarters of TTS Italia and in compliance with the regulations in force on Covid, a new demand / offer meeting was held. In particular, the event was part of the activities of the Working Group on financing for the digitalization of transport, coordinated by Roma Servizi per la Mobilità (RSM). Roma Servizi per la Mobilità, by June 2023, provides for the extension of the network of smart cameras and sensors to increase monitoring of the traffic conditions of the Roma Capitale network in real time in order to be able to intervene in a predictive manner by means of the use of systems equipped with Artificial Intelligence. The amount, financed thanks to ReactEU funds, is € 10 million.
TTS Italia at the LIFE ASPIRE Final Conference: new approaches and experiments for urban logistics
TTS Italia, represented by Vice President Bruno Pezzuto, on 21 September took part in the final conference of LIFE ASPIRE, also involving Municipia and Memex, TTS Italia ordinary members, among the partners.
"LIFE ASPIRE – Advanced logistics platform with road pricing and access criteria to improve urban environment and mobility of goods", co-financed by the European Commission's LIFE 2014 - 2020 program for the environment and climate action, ended on 30 September 2021. It focused on experimenting and implementing new approaches to regulate and manage urban logistics processes, particularly in small and medium-sized cities, with a historic center to be safeguarded and with the presence of a high traffic of commercial vehicles.
The final event was divided into two sessions. During the morning, the results of the project were presented / demonstrated. While in the afternoon, policies for the mobility of goods and air quality in urban areas were discussed. In particular, TTS Italia's speech focused on requirements and management models for the LTZ.
TTS Italia at the MaaS Alliance meeting on "Users & Rules"
TTS Italia, represented by the coordinator of the Working Group dedicated to MaaS, Matteo Antoniola, 5T, TTS Italia ordinary member, participated on September 15 in the meeting organized by the MaaS Alliance as part of its Working Group dedicated to Users & Rules.
The goal of the Working Group is to support MaaS Alliance members in their ongoing and planned MaaS implementations by sharing insights on developments in the regulatory environment and best practices on policy design for MaaS. The Working Group takes into account the expectations and centrality of the user, inclusiveness and positive environmental impacts related to MaaS.
Matteo Antoniola illustrated the "Guidelines for the development of MaaS services in Italy", the document recently drawn up and presented in July to institutions and the public, born from the TTS Italia Working Group dedicated to Mobility as a Service.
• Italia-Bari
Programming services for internet and intranet softwares
• Italia-Milano
Maintenance services for telecommunication devices



ROM-E
2-3 October 2021 – Rome, Italy and WEB event
For further information, click here →

Digital Italy Summit 2021
18-20 October 2021 – Rome, Italy
For further information, click here →



ITS World Congress
11-15 October 2021 - Hamburg, Germany
For further information, click here →