This month focus on...


ENNIO CASCETTA, COORDINATOR OF THE TECHNICAL STRUCTURE OF THE MISSION OF THE MINISTRY OF INFRASTRUCTURE AND TRANSPORT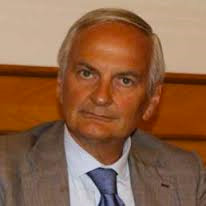 Prof. Cascetta, what are the incoming phenomena and transformations in the urban mobility for the next years, and how do you evaluate them from an institutional point of view?
Metropolitan areas, in which a relevant part of mobility goes on, are the scenarios with an evident change both in the users behaviour and in the way of using transport services and infrastructures. Phenomena such as bike and car sharing, mainly based on the evolution and spread of technologies, are symptomatic of a growing awareness of citizens with regard to the issues of sustainable mobility, but also of the needs, even individual, of rationalization of mobility behaviour. In the next years, soft and flexible mobility will establish regardless the property of a car but still based on the use of car. The Mobility-as-a-service concept will establish and will require more and more intelligent systems of transport.
The funds from "PON Metro" will represent a spur to deepen and widen the best experiences in the field of smart-mobility and cities certainly will represent important laboratories for ITS.
Obviously delays of Italian cities compared to other European cities, can not only be filled with innovative services and technologies. There is a need of serious investment on railway networks, trains and buses, mass rapid transport systems to be evaluated within the SUMPs ( Sustainable Urban Mobility Plans).

What do you expect in the ITS sector? What will the role be for the technical structure of mission?
Mobility is not only made of users behaviour but also of the interaction of users with the transport offer. Transport infrastructure have a role in defining characteristics and level of mobility. This is a relevant aspect both for urban mobility and intercity mobility, and I am not only referring to TEN-T networks.
With reference to the national road network, our country is not in the forefront of the digital transformation of the infrastructure, while other nations are more decisively in the direction of smart-roads. Nowadays infrastructures with no technology inside have no sense. In other countries such as Germany, The Netherlands and Austria, real corridors for the V2I cooperative systems are under experimentation. We also have to keep in mind that the automotive sector is more and more oriented towards autonomous driving, considered as a way to increase safety and to optimize traffic conditions.
The Technical Structure of Mission has been mandated by the Ministry to study and promote the digital transformation of road infrastructure and we intend to meet that mandate quickly. We hope to spark a profound transformation and modernization of the country in this direction.

Another important issue is to improve accessibility to infrastructures: roads, highways, ports, freightvillages.
It is required to implement choices coming from National Plans for transport and logistics. The decision to focus on ports and intermodal logistics represents an explicit choice of those plans and programmatic renewed impetus in recent months by the Minister Delrio. The ports and logistics are key to the competitiveness of the country, for this we need to improve what is behind ports: dematerialisation of processes and national platforms for the management of the logistics, but also on organizational and governance models of platforms and logistic terminals. The National Strategic Plan for Ports and Logistics approved last August and the Decree of the ports governance approved at the end of January clearly show the way to follow: more system, more speed, more technology.

Who is Ennio Cascetta. Born in Naples in 1953, since 1986 he has been professor of Transport Systems Plannig at the Univfersity Federico II of Naples. Also, he is professor at Massachusetts Institute of Technology (MIT) of Cambridge USA. He wrote several academic papers and more than 150 works have been published at international level. He took part in many international research projects. From 2000 to 2010 he as councillor for transport in Campania Region. From 2005 to 2010 he was Coordinator of the Infrastructure Commission, Mobility and Government of the Territory of the Conference of Regions and Autonomous Provinces. Since October 2011 he is chairman of the scientific committee of the Foundation Caracciolo Automobile Club Italia.
From October 2013 to September 2015 he was president of the Italian Society of Transport Policy. From March 2014 to September 2015 he was a member of the Advisory Board of the Authority of Transport Regulation. Since October 2015 he is the coordinator of the Technical Mission Structure for the strategic planning, at the Ministry of Infrastructure and Transport.
This month focus on...
Member of the month
Projects of the month
News of the month from TTS Italia partners
TTS in action
Save the date
ITS relevant tenders in Italy
Sent to 5.378 Members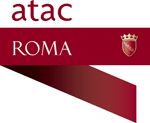 DATAINFOMOBILITY

DataInfomobility, a division of Datamed S.r.l., is dedicated to designing, developing and producing solar powered electronic signage systems. We have been in this field since 2003. Electronic signs are generally placed in the vicinity of bus or tram stops to provide users with real-time information on the arrival of public transport.

We use the most advanced display technologies, based on graphic LCD, transflective FSTN and TFT, that can ensure extremely low energy consumption. At the same time our systems have excellent optical performances: very high resolution, brightness and high readability in any ambient light condition.

Our leading products boast energy consumptions of about 0,5Wh, thus making it possible to achieve an autonomy (that is, normal operation in total absence of charging from the solar panel) of over 1 month. This means that our systems are in a league of their own in terms of reliability, durability, operation and maintenance economies.

For local administrations and transit agencies, solar powered solutions offer huge advantages, not only in terms of energy savings, but also in terms of ease and speed of installation and relocation of bus stops.

We are a leading supplier of solar powered e-signs for bus stops in Europe and other markets outside of the EU, primarily in Israel, where we have already installed our systems in thousands of bus stops across the country. We are also expanding into other markets, particularly in Asia. In Italy our displays are installed in several cities, including Milan, Como, Lecco, Siena and Lecce.

All our e-signs are equipped with a 3G modem for wireless connection and multi-language audio playback system for visually impaired users. We build our products to stand the test of time and usage: our displays are IP56 certified and built to withstand acts of vandalism.

In order to offer complete and "turn-key" solutions to its customers, DataInfomobility has also developed a proprietary cloud-based web platform, which can be accessed from PCs and mobile devices, for the remote control and monitoring of each individual e-sign. DataInfomobility web app is used for configuration and parameters setting purposes and it provides real-time information regarding the status of each device. It generates automatic alarms in case of faults or malfunctions. This results in a considerably efficient maintenance routine.



THREE QUESTIONS TO DATAINFOMOBILITY
How long has the company been in operation for?

Datamed S.r.l. and was founded in 1995 by a team of engineers initially focused on the development of optoelectronic sensors in the biomedical sector (we are still world leaders in this field). In 2003 the info-mobility division - DataInfomobility - was founded, and this makes us pioneers in the development of solar powered e-signs for public transport.
In what ways are your products different from those of your competitors?

In a word - the incredibly low power consumption, almost next to zero. Since the very beginning we have focused exclusively on solar powered systems, and over the years we have improved the energy efficiency of the devices that we produce. LED display technology, which is widespread in the field of outdoor display, despite having made many advances in recent years, cannot compete with the levels of consumption achieved by our systems. Our displays have also a very high resolution, and this is appreciated especially for languages such as Arabic or Chinese.
At the moment your main market is Israel. Why?

Some years ago the Israeli government has made a radical choice in the info-mobility sector - they only allow for solar powered systems to be deployed at bus stations. They have extremely strict and selective requirements in terms of robustness, reliability quality standards. Entering and being successful in this market has been a very hard testing ground and is the result of a long process, which has allowed us to perfect both the hardware and software of our devices. In fact, we are now opening up to other very interesting markets, especially in Asia, and we have customers in Italy and France too.

THE PRODUCT IN THE SPOTLIGHT
"LookUp Jerusalem"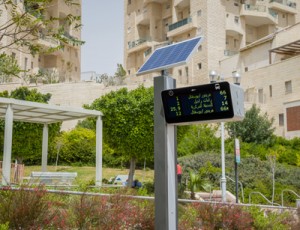 Display technology based on ultra-low power graphic LCD for outdoor use.
Viewing angle: approx. to 180o
Operating temperature: -20o C / + 80°C
Resolution: 913 x 275 pixels
Viewing area size (W x H): 634 x 206mm
Night illumination: LED lights, of variable intensity and adjusted automatically
Protective screen: 6mm dual layer, anti-UV and anti-glare glass
Connectivity: 3G
Power consumption: 0,5Wh (average over 24 hours under standard conditions including 5 hours of night illumination)
Power supply: 12V battery, solar panel (35-55W);
Autonomy: up to 36 days (under standard conditions with 42Ah-12V battery, 85% efficiency)
Audio: Multilingual vocalization of the displayed text
Protection class: IP56
Developed, designed and manufactured in Italy.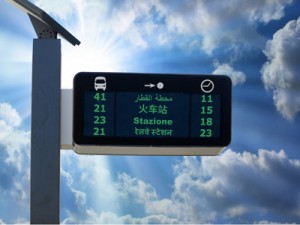 For information: Elena Rimoldi - elena.rimoldi@datainfomobility.com
AlmavivA presents its intermodal card for transport at IT-TRANS
A universal card valid for regional trains, buses, subways and shorty for High Speed trains as well. AlmavivA, ordinary member of TTS Italia, will present it at the IT-TRANS International Fair, the biennial event dedicated to the digitization of urban public transport, which will take place 1 to 3 March 2016 in Karlsruhe, Germany. The new AlmavivA solution allows access to different modes of transport, including those from different operators, giving shape to the concept of Mobility as a service.
A card to be used on regional trains, metro and bus, without having to purchase multiple tickets, always rechargeable via self-service or the Internet. In short, it may also be used on the high speed trains and extended to cover additional transport services, such as car sharing, taxis etc. Based on the standard Calypso 3.1, with a data model developed by AlmavivA and certification Spirtech, the intermodal card, currently in use in the Piemonte region, meets the need of smart travellers, always connected, of solution for simple mobility, efficient and rich information. At the same time, the solution supports a quick and intelligent use of public transport, by removing the obstacles due to the lack of integration of electronic ticketing systems and the lack of interoperable standards.
For any further information on IT-TRANS, click here
Source: AlmavivA
AlmavivA wins tender for C4i system maintenance
AlmavivA SpA, TTS Italia ordinary member, has won the tender issued by the General Command of the Guardia di Finanza for the technological update and maintenance of the C4i system, including the embedded integration of the C4i component STAR (Surveillance, Target Acquisition and Reconnaissance).
Source: TTS Italia
Innovation and Transport: Hack Toscana with TTS Italia members
110 guys divided in 22 teams took part to the Hack Toscana, the 24 hours hackathon organised by the Tuscany Region on the sustainable mobility in partnership with Trenitalia, TTS Italia ordinary member, and sponsored by Engineering Ingegneria Informatica, and M.A.I.O.R., TTS Italia ordinary member. The participating hackers have worked continuously by choosing one of three themes promoted by the initiative sponsors, seven teams on "school / work", offering innovative solutions to improve the daily commute commuter; eight teams on "free time", to encourage the use of public transport in unsystematic trips; seven teams on "tourism", to promote a more informed and sustainable tourism. Three juries have found a winning project and a special mention. The three sponsors have raffled a 5000 euro prize worth for each of the three winning teams.
Source: Tuscany Region
Iran: the new ICT goal for Italy
AlmavivA, TTS Italia ordinary member, took part at the two days mission organised by the Italian Government in Iran. 310 entrepreneurs from 8 to 10 February have been in Teheran. In particular, AlmavivA took contacts with a couple of local companies and collaboration might be defined very soon.
Source: AlmavivA
My Car My Data: the ACI campaign to protect personal data
Automobile Club d'Italia (ACI), TTS Italia founding member, has launched the "My Car My Data" campaign, an international initiative to arise awareness on the protection of data transmitted by the connected vehicles. Actually, any car equipped with sensors, geo-localization devices and communication devices collects and sends may data related to the drivers, including information on the driving behaviour. Therefore the campaign, promoted by the Federation Internationale de l'Automobile and given to ACI for Italy, aims at informing the user on the effective property of these data and on the right of choosing about data transmission.
Source: www.trasporti-italia.com
Presentation of the book "Local Public Tranport" in Milan
Organised by the Politecnico of Milan, TTS Italia ordinary member, it was held on the 26th of February in Milan the presentation of the book "Local Public Transport" dedicated to the evolution of the sector. In Italy there are several publications dealing with specific aspects of public transport, often the result of the research activities of teachers and scholars in the field. However, it seems to lack a reference text, which addresses all the topics of the collective transport system, both on urban and regional scale, addressing all the aspects of the planning, programming, design, operation and management. The book presented itself as a guide explaining the public transport system, considering with all the components of this complex phenomenon and the ways in which they manifest their mutual interference.
Among the speakers of the day, several TTS Italia ordinary members: 5T, University of Rome Tor Vergata, University of Rome La Sapienza, Politecnico of Turin.
Source: Politecnico di Milano
Roma Servizi per la Mobilità launches new road safety campaign
Improving the behavior of road users through messages on road accidents disseminated by variable message signs.
The communication campaign of Roma Servizi per la Mobilità, TTS Italia ordinary member, has started aimed at raising awareness about the risks of inappropriate behavior when driving or when crossing on foot. On the variable message panels installed appear data on the dimensions of the accidents phenomenon. The messages however, are not equal throughout the city: the messages are different according to the area in which they are displayed and to the time of the day. To elaborate the messages, the information collected at City level are used.
Source: Roma Servizi per la Mobilità
Rome: from December 2016 urban goods distribution by e-vans
It will start during the Christmas period the service of electric Van Sharing for the sustainable urban freight distribution in the historical center of Rome. The trial, in line with the General Plan for Urban Traffic of the city ending on December 31, 2016, is part of the city logistics project with low environmental impact "Logeco" developed by Unindustria, Roma Servizi per la Mobilità, TTS Italia ordinary member and La Sapienza University and co-financed by the Ministry of Environment and Roma Capitale. The new distribution method will ensure that the goods will be transported by electric traction vehicles, creating logistics centers located in strategic areas of the city and providing to carriers and operators alternatives to the traditional mode of distribution. The trial will involve 130 companies and public exercises introducing shared transportation to circulate the goods, decrease the levels of traffic and pollution, reduce the management costs and promote green mobility with electric vehicles.
Source: www.trasporti-italia.com
Satellite Design: signed an agreement between Viasat Group and Bertone Design
Viasat Group has reached an exclusive agreement with Bertone Design for the joint development of a new line of telematics boxes for car makers, focused on products on demand, to make custom design and car integrated styles.
An ambitious international project that puts together two excellences of Made in Italy: Viasat's satellite and security systems experience and the technological expertise by one hand, and Bertone at the other, one of the oldest and most prestigious Italian design excellence that has accompanied technological and stylistic evolution in the automotive sector.
"The partnership with Bertone Design has the flavour of an exciting new challenge," said Domenico Petrone, Founder and President of Viasat Group. "Our history shows how Viasat Group has always distinguished its solutions, also focusing on design, technological achievements and Support Services. With Bertone, we want to work out for car makers and develop customized and integrated solutions, combined with telematics benefits for monitoring remotely vehicle status and providing Assistance, Protection and Security services. Without forgetting that we could strenghten synergies with insurance companies to formulate dedicated telematics policy ".
"We are proud of interpreting, with Viasat, this important project", said Aldo Cingolani, founder and CEO of Bertone Design. "Two excellences, who work together and join their experience and expertise in a project which design, technology and innovation create a deep union, to produce an object that will be serving to car makers and Insurance. Bertone Design establishes with Viasat a longtime partnership that will extend their cooperation in other areas, from home automation to smart cities future design.
Source: Viasat
Verona launches "memo ecologico" to support sustainable mobility
The City of Verona, TTS Italia ordinary member, has launched the "memo ecologico" initiative to support the daily use of bicycles in the city. The project is especially addressed to people who do not use and do note respect cycling routes and actively involves young people and students.
Source: Mobility Press
Verona: the "SaferTraffic Mobile" is arriving
The Municipality of Verona, TTS Italia ordinary member, will install on road police cars a new video based technology: SaferTrafficMobile, to increase the road safety. The system is able to analyse in real time the car plate, the insurance compliance, any eventual previous problem has with the vehicle. The system was born from a pilot project, the first in Italy, with the main objective of avoiding the use of smartphone when driving, causing the 18% of road accidents. The system analyses in real time a data bank and also allows to take action immediately on the most common violations of traffic regulations, such as the wild parking or transit on lanes reserved for public transport.
Source: Verona Sera
VIASAT's international expansion continues: the group launches its portuguese branch and moves up the list of the world's top ten market leaders
The internationalisation project of the Viasat Group, TTS Italia ordinary member, a leading company in the design and production of electronic automotive systems with satellite communications technology, is progressing at a consistent pace. Launched in 2012 with the creation of Viasat Servicios Telemáticos in Spain and followed in 2014 by the takeover of 70% of the social capital of Enigma Vehicle Systems LTD, a leading British company specialising in the field of Fleet Management Services, and in 2015 with the creation of Viasat Systems in Romania through a move which gave the Group ownership of 55% of the share capital of Cefin Systems, whose brand CS Fleet is well known on the Eastern European market, today the Viasat Group has taken a new and important step.
The company has announced the Group's launch in Portugal through the creation of a new company, BLUSAT Serviços Telemáticos. "Today's move is an important phase in a larger development plan aimed at the international markets to confirm the Viasat Group as one of the world's leading players in the field," emphasised Marco Petrone, International Corporate Development Manager for the Group and CEO of Viasat Telematics. "We wanted and continue to want to be a polarising force and focal point for local businesses, both companies and individuals, as well as acting as a benchmark Service Provider for clients operating at an international level."
"High quality technological production, excellent technical skills and ensuring the quality of the services we deliver are some of the key values shared across the Group, and these are now available on the Portuguese market," commented Patrìcia Cristo, CEO of Blusat Serviços Telemáticos. "Our team is well-known on the local market for its experience and specific skill set in the fields of IT, Telematics and Fleet Management."
"Today Viasat is assured of a direct presence in the most important European countries in terms of the distribution of satellite technology, as well as indirect coverage of almost 30 countries across Africa and the Middle East thanks to distribution agreements with local businesses," commented Massimo Getto, the Group's Vice President and CFO. "Our increasingly international approach is also demonstrated by the growth in turnover of our affiliated companies overseas, which according to our estimates will be around 20% by 2018."
"Viasat's presence on the international markets is destined to grow significantly over the coming years," concluded the Group's President Domenico Petrone. "Our development plans focus particularly on countries where there is ample space for expansion for businesses able to offer our high levels of experience in the field, our technological solutions, our financial strengths and finally our transparency in our approach to the market and our relationships with stakeholders. We have embarked on a journey which will see Viasat seizing development opportunities not only in Italy but on foreign markets in particular. The field of telematics has great potential for the future and we intend to seize this, taking our innovative, successful and wholly Italian brand to new heights."
Source: Viasat Group