This month focus on...


"SMART MOBILITY AND ITS IN LOMBARDIA: OPPORTUNITIES AND SOLUTIONS FOR THE LOCAL ADMINISTRATIONS": THE 4TH WORKSHOP FOR THE MOBILITY IN NORTH ITALY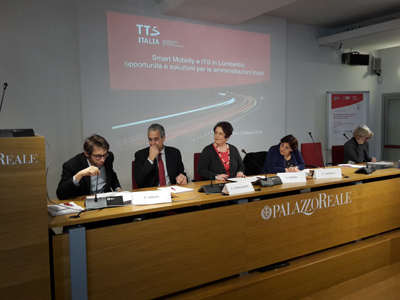 In partnership with the City of Monza and AMAT, it waas held on the 3rd of March the local workshop "Smart Mobility and ITS in Lombardia: opportunities and solutions for the Local Administrations", sponsored by the City of Milan. The event was the occasion to present and discuss about the models and solutions for a smarter mobility starting from the experiences of the Milan metropolitan area and Monza, analysing the available offer.

In the stunning Palazzao Reale and with over 70 participants, the day was opened by Pierfrancesco Maran, Deputy Mobility Mayor of Milan, who underlined the importance of the smart mobility for a real sustainable development of Italian cities as well as the central and key role to be covered by the Mobility Manager.

The same opinion was supported by Rossella Panero, President of TTS Italia, thinking that smart technologies and especially ITS (Intelligent Transport Systems) can effectively push Italian cities to overcome the gap on modernity and efficiency compared to several European countries and cities.

Olga Landolfi, Secretary General of TTS Italia, explained that under a normative point of view, Italy is ready for innovation: there is an Italian ITS Action Plan that only needs to be implemented at national level; there are regulations for users information services to respect; there are National funding opportunities to catch such as the PON Metro and sometimes cities only need a good guide to make the most from this.

The will to create smarter cities was confirmed both by Maria Berrini, AMAT, the Agency for Mobility of Milan, and Paolo Confalonieri, Deputy Mobility Mayor of Monza.
Especially, Milano is involved in the "Sharing cities" initiative that within 5 years will lead to the creation of a proper area within Milan dedicated to the urban innovation.
Monza has recently launched its "Biciplan": 9 bicycle path for a new concept of mobility, a sustainable one.

The event also involved Carla Messina from the Italian Ministry of Infrastructure and Transport. She updated the audience about the last initiative of the Ministry especially as per the local public transport.

Concrete examples of technological solutions came from the three sponsors of the day:
Giorgio Fanesi, Pluservice, presented the integrated and multimodal platform for mobility my Cicero; Francesco Piccinonno, Thetis, described the main National and International solution for the mobility management;
Manuel Milli, Swarco Mizar, illustrated the innovative approaches for a strategic urban mobility management.

The workshop was sponsored by



For the photo gallery, click here
This month focus on...
Member of the month
Products of the month
News of the month from TTS Italia partners
TTS in action
Save the date
ITS relevant tenders in Italy
Sent to 5.369 Members

SOFTECO SISMAT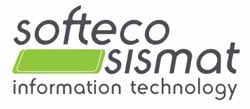 Established in 1979, Softeco Sismat is a leader in the Information and Communication Technology market.

Exploiting the full potential offered by Information & Communication Technology, we deliver innovative solutions enabling business development and the competitive growth of our customers.

Softeco Sismat implements industrial and IT projects through the integration of systems, products, technologies and networks, together with technical and organizational consulting , specialized services and training.

Innovative thinking, leading-edge technology exploration and a substantial investment in Research and Innovation are distinctive features of our Company. Long term and solid participation in EU-funded projects and a large number of international science and technology collaborations, are keys for the delivery of innovative products and for the transformation of innovation into business solutions.

The Company delivers advanced solutions and services in the fields of energy, transport, telecommunications, finance, and in the whole market of industrial processes and technologies. On the market for over 35 years, Softeco Sismat has earned the trust of hundreds of customers and is partner of some of the major Italian and International players. Innovation, flexibility and scalability are the main features of our solutions. This allows us to meet the diversity of needs and challenges of a range of target customers, from small local companies to large national players.

With offices based in Genoa , Milan, Naples and Catania,, Softeco employ about 250 people, of which over 60% have a degree in scientific and technical disciplines.

By acknowledging human resources as the most important asset of an ICT company, Softeco Sismat devotes a constant attention to training and education, involving all company staff (managers, technicians and administrative) in programs addressing technologies, methodologies, quality and management skills.

For contacts and information: Andrea Mastinu - andrea.mastinu@softeco.it

THE PRODUCT OF THE MOMENT
TSM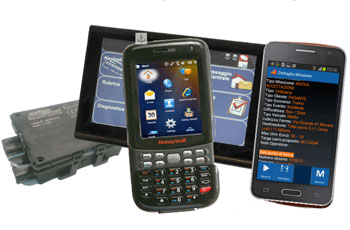 TSM is the advanced platform for planning, operation and management of roadside assistance and towing services.
A flexible solution meeting a wide range of customer needs and requirements as well as operational and service conditions, TSM is the key for effective management of own and third-party tow fleets and repair facilities, and for efficient delivery of assistance to motorists on motorway and ordinary road networks.
TSM is comprised of a central platform for request management, automated work order planning and vehicle dispatching, and of in-vehicle and mobile subsystems for work order delivery and processing and operational support to field services.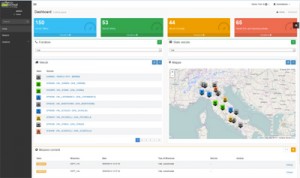 Operation Centre main functionalities:
- Own full call centre functionalities as well as interaction with existing ones
- Quick location of the nearest tow vehicles and garages on duty
- Optimised duty assignment and vehicle dispatching based on defined sets of rules
- Efficient management of roadside services, including communication, diagnostic, support
- Automated tracking and comprehensive reporting of delivered services
- Powerful interface with garages and mechanic workshops:
Acceptance/refusal of assigned work orders based on defined rules
Assignment of accepted services to specific tow trucks or operators, control of supplied services through several modalities
Work order and service completion
Rich web map displays including tow fleet location, vehicles and operation state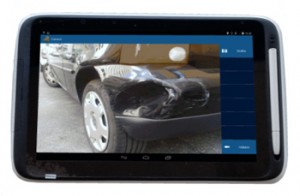 Roadside services:
- Advanced service personnel support and operation tracing in each phase (approaching, arriving at the point, on road repair, restart, towing, motorway toll booth passing, arrival at repair facility, etc.)
- Photo and video capture
- Administrative forms editing and storing
- Signing procedure (including graphometric)
- Payment operations (credit and debit cards, cash)

Flexible architecture:
Personnel and in-vehicle systems support several configurations and technologies in order to meet specific customer needs
- In-vehicle integrated unit with rich graphical display
- black boxes for base data collection and communication and graphical user interface on mobile devices (PDA, smartphone or tablet)
- adaptive user interface based on selected devices and configuration

Semplific@uto by ACI



Semplific@uto ("easy car") represents a digital revolution to keep car-related paperwork and bureaucracy to a minimum. The project aims at making life easier for citizens, by streamlining vehicle-related transactions (vehicle registration, change of ownership, scrapping, exportation) through the gradual and complete dematerialisation of the certificate of ownership (CDP) and the digitisation of all relevant administrative procedures.

The main goals of the project are as follows:
1.more straightforward and less bureaucratic procedures;
2.safer vehicle-related transactions and greater protection of documents relating to vehicles;
3.reduced costs to the community;
4.reduced time and cost to manage data files;
5.thirty million paper saved each year in terms of environmental sustainability

The objectives as above can be achieved thanks to:
a.the use of open data systems to check the accuracy of data through interoperability among the administrations involved;
b.the possibility of paying with e-money;
c.the possibility of using digital signature for signing deeds or application forms;
d.the electronic storage of all documents according to the law.

The project is considered innovative, as it takes advantage of the IT technology potential to simplify bureaucratic procedures and improve working processes both at the ACI Public Register of Motor Vehicle Offices and the over 6,000 agencies handling car-related transactions.
ACI is a public body with branch offices spread throughout the country and serving around 20/25 million clients per year. As such, it is actually one of the first public bodies to adopt significant changes in terms of document digitization, with a view to speeding up working processes and increasing overall efficiency.

The project puts an end to a series of scams linked to the paper document, such as theft or unlawful alteration of its data. The digital document, indeed, can be neither lost, nor deteriorated, nor easily stolen.
It means a great advantage for around 300,000 Italian citizens/per year who lost or suffered the theft of their certificate of ownership, and who were compelled to make a report to the competent authorities. Moreover, citizens will save around 15/16 million Euro per year, corresponding to the costs they would incur for requesting a duplicate of the CPD.

In addition, ACI is innovating its approach to citizens by shifting "from a push to a pull strategy" and allowing motorists, once registered on the ACI website, to take advantage of the following services:

- receiving notifications relating to their vehicle transactions, such as recording of sales, scraps or liens;
- checking the chronological record of a vehicle;
- checking the payments of the car tax;
- checking the current status of a vehicle via smartphone;
- receiving on-line services through electronic payment systems in gateway mode.
---
Kilometer Charging System for heavy goods vehicles in Belgium: fixed installation of OBU avoids fines and saves time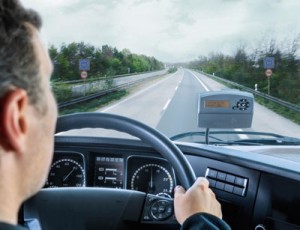 April 1, 2016 will see the launch of the Kilometer Charging System for heavy goods vehicles with a gross combination weight rating over 3.5 metric tons in Belgium. From then on, all relevant trucks, domestic and foreign, must be equipped with an On Board Unit (OBU).

When built in to the vehicle, Satellic's OBU offers many benefits, including time savings, more safety and comfort and the prevention of heavy fines. Fleet operators can now have the OBUs installed fast and easily through the certified workshop network of VDO, a Satellic partner.

VDO is a corporate brand of the international automotive supplier Continental, which manufactures the OBU for the Belgian Kilometer Charging System and has many years of experience in the production of such devices.

The most decisive advantage of a fixed installation: unlike a cigarette-lighter plug installed OBU, the built-in OBU automatically switches itself on when the vehicle engine starts. This avoids substantial fines, because if a driver forgets to turn on the OBU or if the OBU is not connected, the transport company must pay 1000 euros and the driver has to comply with the regulations within a time span of three hours. So a fixed installation pays for itself before the first fine. A fixed installation is also recommended for vehicles that regularly or only occasionally transport dangerous goods (ADR and ATEX vehicles). A permanently installed OBU has no rechargeable battery, so the OBU doesn't have to be removed from the vehicle during loading and unloading.

Another reason why a fixed installation can be worthwhile for carriers is that a built-in OBU considerably reduces vehicle downtimes. The driver doesn't have to go to a Service Point, register the vehicle, get the OBU, install the OBU in the vehicle and return the OBU again. "A built-in installation means that the upcoming toll in Belgium will cause no problems for fleets and carriers. They will have a permanently functioning, easy-to-operate system, which also ensures that the driver makes fewer potentially punishable incorrect entries," says Lorenzo Ottolina, Head of the Tachographs, Telematics and Services segment at Continental Automotive Italia.

Getting an OBU permanently installed in a vehicle is very simple - it only takes three steps. If the OBU is obtained at a Service Point or on the Satellic website at www.satellic.be, the installation can be booked at a nearby installation partner selected in the VDO Webshop (www.vdo-services.com). The selected certified workshop then installs the OBU. The customer can buy an installation voucher when ordering a unit in the VDO Webshop, so when he arrives at the workshop, everything has already been paid - there's no additional paperwork to be filled out. VDO recommends OBU installation during the usual truck downtimes - e.g. during a tachograph inspection.

For contacts and information: Romina.Porro@continental-corporation.com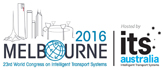 A4 Mobility and Kapsch win tender for port access control
A4 Mobility and Kapsch, TTS Italia ordinary members, has won the tender issued by the Livorno Port Authority for the supply and installation of the new authorization management and physical system for access to port gates called GTS3. Through the GTS3 project the vehicles access to port will be monitored in real time and remote reports will be elaborated.
Source: TTS Italia
Indra to deploy radars in Shanghai and two other chinese airports
Indra, TTS Italia ordinary member, has won a contract to deploy a radar station at Pudong International Airport in Shanghai, which will improve surveillance of movements within its airspace. It will also equip the international airports of Dalian and Shenyang with its advanced Surface Movement Guidance & Control System (A-SMGCS), which will include latest generation surface movement radars.
The station that Indra will deploy at Pudong International Airport will feature a primary radar and a secondary mode S radar, meaning more flights can be managed with tighter security levels. Pudong is one of the fastest growing Chinese airports in terms of passenger numbers.
At the international airports of Dalian and Shenyang, Indra will deploy A-SMGCS systems that will make for more efficient control of aircraft runway maneuvers, and a flight platform, allowing operations to be conducted under poor visibility conditions.
These systems will be equipped with Indra's continuous wave surface radars, which offer high resolution detection and location of aircraft and other objects, whether stationary or in movement.
The company already completed deployment of an initial A-SMGCS system at Guangzhou International Airport, which was the first in China to be equipped with a continuous wave surface radar.
The multinational has a solid position in the Chinese air traffic control systems market. It has deployed a network of fifty radars that controls 60% of airspace. The Chengdu and Xian control centers oversee air traffic in an area that covers 4.2 million km2 using the company's technology. It won a series on contracts in 2015 to deploy more than 60 support radio systems at 20 airports. In total it has deployed more than 900 systems of this kind across the country.
Source: Indra
Kapsch strengthens its position as one of the leading companies in City Access technology in Italy
Kapsch, TTS Italia ordinary member, was awarded with three new contracts for City Access Management in Como, Ravello and Syracuse. Italy is a pioneer in the management of Limited Traffic Areas in city centers. They were first introduced in the seventies, and the first automated access control system was designed by Kapsch TrafficCom in the nineties. Nowadays, in Italy there are more than 100 Limited Traffic Areas with absolute ban and another 170 with regulated access. Throughout the years, Kapsch TrafficCom established its position among market leaders in the automated access control business by installing over 569 access points in more than 52 municipalities. The implementation of the three new projects will be finalized by the spring and will further strengthen Kapsch leadership in this domain.
The Automated Access Control System of Como is actually composed by 6 access points to the Limited Traffic Zone (LTZ) and one access point on a fast track. Within April this system will be completely renovated by Kapsch TrafficCom. Access points will become 14 and the aim of the new system is to modernize and reinforce the existing ones, originally installed in 2001, and, at the same time, make it ready for future upgrades.
The other important project actually in progress in Italy is in Ravello, the famous "city of the music" on the beautiful Amalfi coast. The project includes 4 access points, near the city center, and it will be active at the end of April, when it will end the test phase. The municipality wants to have stricter controls on local traffic, especially on top level tourists, using hired vehicles with driver service.
The last project is the Automated Access Control System in the Limited Traffic Zone (LTZ) of Ortigia Island, the most ancient part of Syracuse city center. The system consists of 3 new access points that will replace the existing ones and they will be more technologically advanced. The aim of the system is to have a more efficient solution to regulate traffic and to safeguard heritage of the city center to face the growing amount of tourists. The total value of the project is of 115,000 euro.
"Three different geographic areas of Italy, but the same need: protect a unique and characteristic city center where heavy traffic could become a problem" - says Andreas Hummer, General Manager of KTC Italy – "A smart management of the vehicles flow is a way to put together municipality and citizens requirements, giving priority to the preservation of historical heritage and quality of life".
Kapsch was the first company in Italy to design, plan and implement an automated system to control access to the Limited Traffic Zones. The first one was installed in Bologna in 1994 and it was the forerunner of all the automated systems in Italy. Since then, Kapsch has installed LTZ systems in many important Italian cities, including Rome, Naples, Turin, Ravenna, Salerno, Piacenza, Bergamo and Bardonecchia. Moreover, the same system has been adopted internationally as a Kapsch solution for urban traffic control.
Source: kapsch
Kapsch wins tender in Bologna
Kapsch, TTS Italia ordinary member, has won the tender issued by the City of Bologna to substitute and improve the traffic telecontrol system
Source: TTS Italia
Roma Servizi per la Mobilità and Strada dei Parchi sign an agreement for the users integrated information
Roma Servizi per la Mobilità, TTS Italia ordinary member, and Strada dei Parchi, have signed an agreement to offer to drivers moving between the urban stretch of the A24 highway and the Ring Road updated and real time information on viability and traffic. After sharing data for years, the two companies have formalized their agreement to improve road safety through variable message signs.
Source: Muoversi a Roma
Softeco among the partners of the Life+PERHT project for the green mobility
It was held in the past days in Treviso the final conference of the European project Life+PERTH, with an investment of 1,5 Million Euro, 50% funded by the European Commission.
PERHT, "Parking green services for better environment in historic towns" is a pilot project part-funded by the EC under the LIFE+ Program - the EU financial instrument for the environment - financed among some hundred European projects selected in response to LIFE+ 2011 call.
PERHT addresses the very important issue of people and goods mobility by the implementation of appropriate and innovative "green" parking schemes and associated measures in small-/mid-size historic towns such as Treviso, where the impacts of individual and commercial traffic are more severe.
Launched in October 2012, the LIFE+ PERHT project involved a cooperation between local authorities (Municipality of Treviso), transport service providers (ACTT Treviso) and engineering and research companies, including Softeco Sismat, TTS Italia ordinary member. The international dimension of the problem and the potentials for transferability of the identified solutions have ben also illustrated by the cooperation with EAHTR, the European Association of Historic Towns and Regions that, thanks to its network of thousands historic cities, acted as a multiplier partner of PERHT project.
Source: www.trasporti-italia.com
Trenitalia chooses myCicero
Trenitalia, TTS Italia ordinary member, has chosen myCicero, the integrated platform for mobility developed by Pluservice, TTS Italia ordinary member. myCicero is a platform for the mobile payment developed in 2012 to ease the user access to mobility services from the information on public transport, to tickets purchase, to parking area payment, to bike sharing and all by app and mobile phone. myCicero has conquered some of the main Italian cities such as Rome, Milan, Turin and Bologna and now has welcomed one of the main Italian player of the sector, Trenitalia. Ata the same time, a new function of myCicero has been activated: the app is now able to look for intermodal travel solutions including urban and extra urban transport as well as the ticket purchase for each travel also from different operators.
Source: Pluservice
TTS Italia welcomes the new member Socio Safer Place
TTS Italia welcomes a new ordinary member: Safer Place.
Safer Place (www.saferplace.com) offers technology to reduce reckless and dangerous driving and increase road safety for drivers and pedestrians. Safer Place detects all types of non-traditional, high risk traffic violations on a single unified platform.
Source: TTS Italia
TUeTO: an App against traffic
Within the OPTICITIES European project, the Politecnico of Torino, TTS Italia ordinary member, has developed the App TUeTO, under test until May. After that, the App will be officially launched in the city of Turin offering to users a real time support with all the available means of transport: private cars, buses, bikes, tube. The App will estimate the travel time considering road works and accidents.
Source: Clickmobility
Viasat Group - a process of internationalization
The process of internationalization of Viasat Group, a leader in engineering and manufacture of electronic automotive systems on application of satellite technologies, is advancing rapidly. It started in 2012 with the establishment in Spain of Viasat Servicios Telemáticos, continued in 2014 with the acquisition of 70% of Enigma Vehicle Systems LTD, a British excellence specialized in the FMS market. The first half of 2015 showed further development of Viasat's internazionalization with the acquisition of 55% of Cefin Systems, also known on the market under the brand CS Fleet, which in June became a part of the Group as Viasat Systems. In 2016 a new important step; a newco in Portugal BluSat Serviços Telemáticos in Lisbon.
Today it operates directly in countries that are generally considered the European countries where satellite technologies are used on a widespread basis (Italy, United Kingdom, Spain, Portugal, Romania and Eastern Europe) and has a network of local dealers in over 25 countries. The multi-country strategy can be summarized in the "global action, local think ", business managed by a local management can avoid many unpleasant surprises. Today it is not important to transfer the know-how, but properly structure their know-how on specific market.
"Viasat Group is attending the Elite program of the London Stock Exchange and Italian Stock Exchange", says Massimo Getto, Vice President and CFO of Viasat Group, "to facilitate the comparison with excellent companies, both Italian and European, learn from their best practices to address the capital market on the Stock Exchange, an increasingly and continued growth in our target markets".
For more information: www.viasatgroup.it/en

The President of TTS Italia at the Turin Convention on the future of the sustainable mobility
Rossella Panero, President of TTS Italia, took part at the convention "The future of the sustainable mobility" held in Turin on the 18th of March. Together with the Italian Ministry of Infrastructure and Transport, Graziano Delrio, the event involved some of the Italian mobility actors such as Claudio Lubatti, Turin Deputy Mayor, and Pierfrancesco Maran, Milan Deputy Mayor. During the day several key issues have been discussed such as the next project for the metropolitan areas; the new rules for the road safety; the development of the electric mobility; the freight transport.

Mobility in Italy – Moving Ahead - Milan, Spazio BASE (Via Tortona 54) - April 28-29
Mobility in Italy - Moving Ahead is promoted by the City of Milan, with the patronage of AIPARK, AMAT Milano, IBAN (Associazione Italiana degli Investitori Informali in Rete) and TTS Italia. The event stems from the successful experience of two well established events on mobility: Citytech - BUStech, a leading event in Italy organized by Clickutility on Earth in partnership with the magazine Autobus, with an high institutional framework, and four successful editions from 2013 between Rome and Milan; New Mobility World, organized by House of New Mobility, the new platform for the development of solutions for the connected and smart mobility. The Uwe Ansorge team organizes together with VDA (German Association of car manufacturers ) New Mobility World, the event on mobility held in September 2015 during the Frankfurt Motor Show (IAA ). The major international partnerships include the Milan and Paris events.

Moving Ahead will be held on 28th and 29th April in Milano at Spazio Base. Over 100 speakers, coming from 12 countries (Italia, Germany, France, UK, The Netherland, Austria, Switzerland, Portugal, Belgium, Israel e USA), will debate all the issues of the event: parking management through innovative technologies, electric and ibrid mobility, connected car and autonomous drive, public transport, sharing and urban mobility, mobility innovative services.

To take part to the Institutional Session, conferences and technical workshops, online registration on http://mobility-in-italy.com/it/form-di-registrazione/

For the detailed program of the two days event, please, click here

Source: Mobility in Italy

11° ITS European Congress - Registrations open!
The registration for the 11° ITS European Congress in Glasgow, Scotland on 6-9 June 2016 is officially open!

The ITS Congress and Exhibition is Europe's largest event in Intelligent Transport Systems and Services, representing the annual appointment for the European ITS community to share knowledge and make business.

Over 2,500 ITS professionals are expected discussing the latest trend on ITS during the sessions and networking in the Exhibition and throughout the social events.

Here are some of the highlights to get a glimpse of the extensive programme for this year's Congress:
- Mayor's Summit on Wednesday 8 June
- More than 100 sessions around the 5 Congress topics
- Gala Evening at Kelvingrove Art Gallery & Museum on Wednesday 8 June
- Student Programme to engage the younger generation
- Exhibition gathering more than 100 exhibitors
- Technical Visits to show Scotland's best ITS

For registration, click here
For further details on the Congress, click here

Source: ERTICO
EXPO Ferroviaria
5-7 April 2016, Turin
For further information, click here
Internet of Things: il futuro è già presente!
15 April 2016, Milan
For further information, click here
Mobility in Italy - Moving Ahead
28 - 29 April 2016, Milan
For further information, click here
Presentazione dell'Italy Climate Report 2016
27 April 2016, Rome
For further information, click here
1st International ITS Summit
5 April 2016, Amsterdam, The Netherlands
For further information, info@connekt.nl
Intertraffic Amsterdam
5-8 April 2016, Amsterdam, The Netherlands
For further information, click here
TRA 2016
18-21 April 2016, Warsav, Poland
For further information, click here