This month focus on...


LUIGI CARRARINI, PROJECT MANAGER SMART ROAD AND MANAGER INFRASTRUCTURE AND TECHNOLOGICAL UNIT IN ANAS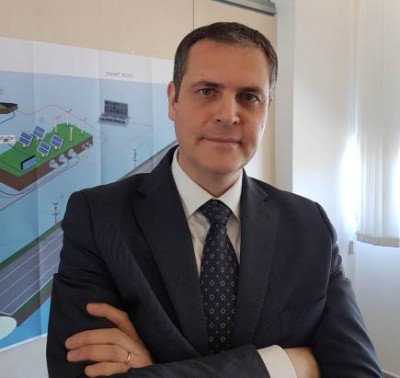 Mr. Carrarini, what's a smart road today?
The word "smart" is really used, however it implies a new concept when applied to roads and Anas is working on that. We have been working for several years on the concept of smart road even if it cane in the spotlight in 2016. How will our smart road be? First of all safe, with a high level of information and several services for users: these are fundamental elements for the automated driving implementation. Anas is using concepts from the rail world to define the development of the smart roads: the driving tied to the train tracks, along with a series of highly innovative technologies, guarantee greater safety to rail traffic. And this is what we would like to play on the road with the required distinction, clearly. The challenge is even more difficult on the roads of the Anas network that, unlike the highways, have no traffic monitoring structures such as toll booths for example. Anas will implement these infrastructure.

What are the infrastructures?
We need to do a conservative investment to enable us to keep pace with the continuous developments in technology. We will invest on 5G for data transmission and fiber optics: the entire smart network will be equipped with broadband. Our "telematics highways" need energy, therefore "green island" will be created every 30 kilometers, equipped to produce renewable energy that we will distribute to 15 km back and forth. In addition, we will have two communication systems. The first is called "wi-fi in motion" with a very low latency to guarantee data transfer without interruption among sensors even at 130 mph: under 100 milliseconds, we are not aware of the gap, we asked a standard of 50 milliseconds. This wi-fi will be free, social, for access to basic information such as SOS on-board and mobile information related to traffic, building sites. I want to stress that this information will be certified. Of course, even today you can get them from different sources, but this large amount of data collection on the smart road opens the door to a number of very useful developments. For example, we will be able to geolocalize vehicles, to know at what speed they travel, what language the driver speaks and the type of cargo it is carrying. It is intended that to make the most of this heritage regulatory intervention are necessary.

What are the regulatory interventions required for the development of the smart road?
Today the Road Code is written for classical road-vehicle interaction with variable message signs, road markings and signs and so on. If the context radically changes, even the Code must become computerized, must implement a series of innovations that will allow us to leverage the data. We have to rewrite it keeping in mind the technological progress.

In addition to wi-fi in motion, which is the other communication system?
The project also includes a new standard (Dedicated Short Range Communications - DSRC) that will allow in the near future the implementation of innovative and interactive mobile information services, security and connectivity, for the intelligent management of all road infrastructures and development of services oriented to the dialogue vehicle-infrastructure and vehicles-vehicles. In particular, I refer to the IEEE 802.11.P frequency already indicated by the ITS Directive for road safety and that the Ministry of Economic Development will have to license for ITS. This will enable vehicles to communicate with each other more directly without going through the infrastructure, useful in many cases and able to prevent accidents. In addition, the sensor gives us the ability to monitor the way through smart cameras placed at close range. This means having reliable data on the state of critical infrastructure such as bridges, tunnels, viaducts, always - and I want to say - in compliance with the privacy of road users. Finally, we plan to use the drones: in green islands there will be the hangars for the drones, very useful in traffic monitoring, in case of queues and accidents to bring first aid means, for the control of critical infrastructure at points inaccessible by other means. To do this, however, e the European law on drones that allows only visual flight must be changed.

Have you discussed the use of these standards with industries?
We have chosen the only recognized standard for this type of communications and then bet on the only technology now available. Anas then will do its part for the infrastructure, but we see that from industries there is a lot of interest for both the new and for the aftermarket.

Anas is working to make Salerno-Reggio Calabria the first smart road in Italy. How is the project going?
The 20 million Euros tender that we published last June is in an advanced award state, the technical offer is on going. The transformation into a smart road of the A2, the Mediterranean motorway, will also give us the opportunity to overcome the infrastructural gap. And this is another benefit of the technology.

A few months ago you published other tenders for the first of smart road network ...
Yes, on the Official Journal of 14 November 2016, four tenders have been published with a total value of 140 million euro, for the supply and installation of advanced technology systems along approximately 2,500 km of Anas network distributed throughout the national territory.

When the first real Italian smart road will be ready?
We plan to realize the first 30-60 kilometers of the A2 in the second half of 2018, meanwhile we will make a trial of wi-fi in motion in the next few months on the Rome-Fiumicino.

The Ministry of Infrastructure and Transport is working on the definition and standards for intelligent roads too. Also TTS Italia is taking part to the process. What is the position of Anas in this context?
On this project, there was immediately a great harmony between the Ministry of Infrastructure and Transport and Anas. The policy at this time is giving a lot of attention to this issue, so that during the next G7 Transport in Cagliari there will be a session devoted to this subject.

The European Commission has set 2019 as the year for a regulatory and implementation process for smart road within the Union. Is this in line with what is happening in Italy?
Of course, although I have to say that Italy should make an extra effort and more actively participate in European and international forums...

Who is Luigi Carrarini. Degree in Electrical Engineering at the University "La Sapienza" of Rome, is currently Head of Unit for Infrastructures and Technological systems, the Operations Directorate and Territorial Coordination of Anas
Among the positions held in Anas: project manager of "Smart Road"; project manager of the remote control system in the galleries; in charge of the technological systems of approximately 25,000 km of roads, about 1,300 tunnels for a development of about 800 km; responsible for the design of extraordinary maintenance and new works of technological systems in road infrastructure; responsible for the Coordination of the administrative and technical activities and for monitoring the application of the European Directive 54/2004 / EC and Legislative Decree 264/06 regarding "Minimum Safety Requirements for Tunnels in the Trans-European Road Network"; responsible of the energy efficiency improvement in road infrastructure.
He is a member of the CEI (Italian Electrotechnical Committee) SC 64C for the preparation of the new standard "Electrical systems in road and railway tunnels"; Vice President of the Technical Committee D5 "Exercise of Road Tunnels" of the World Association of Road, from 2016 to 2019; Director of Fastigi Foundation. Previously he was in Italferr Spa Security, a subsidiary of Ferrovie dello Stato Group in the field of high-speed and traditional lines.
This month focus on...
Member of the month
Products of the month
Project of the month
News of the month from TTS Italia partners
TTS in action
Save the date
ITS relevant tenders in Italy
Sent to 5.574 Members

HERE

HERE enables people, enterprises and cities around the world to harness the power of location and create innovative solutions that make our lives safer and more efficient. We transform information from devices, vehicles, infrastructure and other sources into real-time location services that play a key role in how we move, live and interact with one another. Whether you're a cartographer, a programmer or just really love gadgets and apps – you're sure to find your ideal destination at HERE. As a technology company with a strong moral compass, we are passionate about making mobility safer, cleaner and more convenient. We're improving the quality of life of people living in cities and empowering businesses to be more productive and efficient. At HERE, we thrive on making amazing things possible.




PRODUCTS IN THE SPOTLIGHT
It's not just a map any more. HERE evolves into an Open Location Platform
Companies and developers will be able to bring together data and services with HERE in a collaborative data platform to create new ways of seeing the world. HERE map data, and its services like traffic, routing, geocoding and others are at the heart of our offering, but now, with the complexity of the questions people want to ask about the world increasing every day, more and more layers, levels and sources of information are required. So now the 'open' part of our new platform will allow data owners, developers and others to add, mix, and manipulate data for themselves, or for other people tapping into the platform, like never before. Content providers to the platform might be car manufacturers, business owners, transit authorities, government agencies and more. For many providers, opening up their data to other users of the platform can be enormously beneficial – for example, a city authority might wish to make public the locations of their newly installed EV charging points and add their database to the platform using our APIs ( https://developer.here.com/)



A developer might then use the Open Location Platform to create an app that leads motorists to their nearest charging station using HERE routing services. That's just the smallest taste: what if that added information was parcel delivery ETAs, 4G/WiFi coverage, bus timetables, best-selling ice-cream flavours or anything else you might imagine?

HERE first to unveil services from sensor data of multiple car brands.
Using real-time sensor data generated by connected vehicles, the HERE Open Location Platform will offer drivers a real-time depiction of the road environment that can be accessed through four services, providing valuable, timely insight into the driving experience.
The services - HERE Real-Time Traffic, HERE Hazard Warnings, HERE Road Signs and HERE On-Street Parking provide up-to-date information on everything from potential road hazards, to traffic updates and on-street parking.
HERE has been outspoken about the need for collaboration within the automotive industry, in-particular regarding the collection and analysis of vehicle sensor data. The new data services are a world's first, harnessing sensor data from competing automakers to improve the driving experience, while reducing both traffic congestion and the risk of traffic accidents. Starting with Audi, BMW and Mercedes-Benz cars, with plans to expand to other brands, this level of collaboration within the auto industry is a key step forward in not only ensuring safer driving, but in the realisation of the autonomous vehicle.
From the first half of 2017, these features will be commercially available to any customer within and outside the automotive industry.

HERE WeGo App - Effortless urban navigation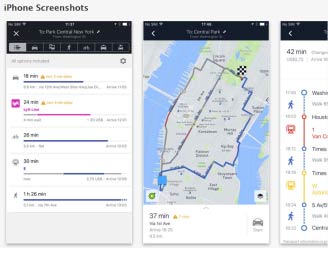 HERE has created a truly comprehensive mobility app that can help provide complete transportation options and navigation guidance. Consumers get instant access to offline maps for more than 110 countries, public transit information for more than 1,300 cities and 3D indoor maps for thousands of shopping malls, airports and sports venues. And, HERE WeGo is just as useful on a desktop.

HERE to partner with Pioneer



By linking their complementary mapping and automotive technologies and assets, HERE and Pioneer plan to enable fully integrated global SD (standard definition) and HD (high definition) mapping solutions at a scale and quality-level unmatched in the industry.
The aim: to support new innovations for customers in in-vehicle infotainment and autonomous driving as well as in any industry where location intelligence can be applied.
HERE and Pioneer's mapping subsidiary Increment P Corporation (IPC) intend to use each other's SD map data in existing and future products and services, with HERE data able to support IPC's global customers, and IPC's map data able to support HERE customers in Japan.

For contacts: Simona Marinelli - simona.marinelli@here.com
Octo Telematics and OT revolutionize car sharing with EasyOpen by Omoove, a service powered by OT's Secure IOT Cloud



OT (Oberthur Technologies), a leading global provider of embedded security software products and services, and Omoove, a company by Octo Telematics, a European leader in providing innovative technological solutions dedicated to shared mobility, and TTS Italia member, announced that they are joining forces to transform user experience and increase security for car sharing services. The two companies presented EasyOpen, a service powered by OT's Secure IOT Cloud that transforms smartphones into car keys, at the Mobile World Congress in Barcelona.
EasyOpen combines OT's expertise in secure service enablement for smartphones and wearable devices with Omoove's multiple years of experience in car sharing platforms and on-board technology.
Until now, the majority of car sharing fleet systems relied on direct communication between components installed in vehicles and a central management system. These purely online systems tended to create latencies for the users, and potentially made the vehicles vulnerable to illicit use. To offer a superior level of reliability and solve latency issues, EasyOpen introduces the use of a smartphone with Near Field Communication (NFC) technology to quickly and safely manage access to vehicles enabling users to directly interact with the vehicle using a device they already own, even if their smartphone is out of range of network coverage or runs out of battery. The service can also be extended to any wearable device equipped with an eSE (embedded Secure Element) supporting NFC technology.
Relying on OT's Secure IOT Cloud, EasyOpen ensures strong authentication of the user's smartphone and secure provisioning and storage of the digital keys in its eSE from the enrolment to the effective use of the service. In practice, it will provide an extremely simple, intuitive and fast user experience. After initially registering to the service through the EasyOpen application provided by Omoove, users will be able to immediately find vehicles in the area using their smartphone and book the one of their choice. Digital keys will be sent remotely and in a secure way via OT's Secure IOT Cloud to the user's device. The user will simply have to place the smartphone close to the windshield to unlock the door. OT's eSE equipping the NFC receiver installed in the cars will then ensure the secure communication between the user's device and the car and will also enable the remote management of the access rights at the car level. In case of device loss or theft, the digital key will be disabled remotely to avoid misuse.
"OT is a strategic supplier both to mobile device makers and to the car industry. As such we have a natural position to build the trusted and secured link between smartphones and cars. Octo Telematics has already established its capability and legitimacy to deploy car services at scale in the Usage-Based Insurance sector and we are really pleased to team-up with them as they now ambition to reinvent the car sharing experience." said Viken Gazarian, Deputy Managing Director of Connected Device Makers business at OT.
"As a pioneer and leader of Insurance Telematics, Octo places innovation at the heart of its growth. The agreement between Octo and Oberthur Technologies allows us to leverage the mutual expertise in automotive solutions and IoT applications, where both companies are investing, and to cover the needs of the emerging sharing mobility market for fleet managers or car sharing operators.
Digitalizing and securing the keys in end-users' devices is the first achievement of the agreement, led by Omoove, focused on shared mobility solutions, and OT, a field-proven expert in securing digital services covering a wide range of smartphones and wearable devices, as well as the automotive space. This is a key asset to offer a ready-to-use and fully-secured solution to Omoove customers, supported by cutting edge technologies, serving a strong and unique user experience" said Giuseppe Zuco, CEO at Omoove and Octo Telematics co-founder.
For further information: Adriana Zambon - press.it@octotelematics.com
---
SWARCO MIZAR: HOW BIG DATA IMPROVES AIR QUALITY



Air pollution has been a growing world problem, caused by the ever-increasing number of people and their consumption patterns. Now, technological progress and big data have merged to enable us to forecast pollution just like we can forecast weather.
SWARCO has taken the opportunity to integrate real-time air quality data and 1 to 4 days emission forecasts into our urban central system solutions. As an overlay on classic SWARCO central system maps with traffic data and equipment status, this new feature provides air quality data in 67 countries around the world, therefore covering 5.445 Billion people, with an uptime and coverage SLA of 99.9% for the real-time data. At the core of the software stands big data and machine learning techniques that determine the dispersion and flow of air pollution from a combination of layered data sets. Data is derived from governmental sensors, satellites, weather patterns, transportation dynamics, and other environmental sources. Together with proprietary algorithms, this combination provides users with air quality data that is accurate down to city block resolution. The solution includes real-time and historical data for the main six pollutants (NO2, CO, SO2, PM10, PM25, O3) and can be visualized as a colour coded heat-map or data sets. Adding additional sensors is not mandatory with the solution. However, it can help providing a higher level of air quality data.
Tests are on-going to evaluate the use of the data for strategic traffic related decision like traffic signal cycles and VMS messages.


AlmavivA and Hit Rail sign strategic cooperation agreement for IT and interoperability services to the European rail industry
A new strategic cooperation agreement between interoperability experts Hit Rail b.v. and AlmavivA, Italy's leading provider of ICT services for the transportation and logistics sector, and TTS Italia ordinary member, is set to bring increased connectivity and high performance systems to the railway industry in the face of new European Technical Specifications for Interoperability (TSI) in both passenger and freight sectors.
The two companies have agreed to combine their expertise and work together where appropriate to deliver new systems for the rail industry. They will promote each other's services as complementary and will market joint services to clients on a non-exclusive basis.
AlmavivA will concentrate on the services of software development, systems hosting and running applications, while Hit Rail will provide connectivity and interoperability services and offer its deep understanding of the European rail environment and the legislation governing the industry.
Hit Rail has developed detailed knowledge of the TAF and TAP Regulations, the Common Interface and the messages exchanged between Railway Undertakings (RUs) and Infrastructure Managers (IMs). The two companies will work together on joint customer projects to develop, implement and test systems that enable compliance with the TAP and TAF Regulations.
The agreement follows the close cooperation established between the two companies in delivering a solution for RFI (Rete Ferroviaria Italiana), the Italian IM, responsible for the management and safety of rail traffic on the Italian national rail network. Hit Rail b.v. and AlmavivA are working on the customer project, helping RFI to insource certain areas of the EU's TAF regulation. The positive cooperation established on this project encouraged the two companies to move forward with a formal Memorandum of Understanding, signed at the end of January of this year, that could see closer working links in the future.
The agreement comes at a time of great change and advancement in the European railway industry as countries throughout Europe liberalise their rail systems, making way for many new smaller rail operators to enter the market. At the same time the EU is introducing new Regulations around the subject of interoperability and communications across rail systems – these Regulations require greater use of standard messaging and a common interface.
Smeraldo Fiorentini, AlmavivA's General Manager, said: "We have already developed a close relationship with our counterparts at Hit Rail and look forward to working together on both the RFI project and many future collaborations. It will allow us to offer a combined service to our customers that brings the best of our expertise in ICT and Hit Rail's knowledge of the communications, interfaces and interoperability required in today's European rail systems."
Antonio Lopez, Managing Director of Hit Rail, welcomed the agreement with AlmavivA as an example of how the rail industry is increasingly working together, saying: "Our agreement with AlmavivA and work to date with them on RFI's project will help both our companies to widen the scope of our services and offer powerful solutions for IMs and RUs across Europe, as they seek to implement new TSI regulations for both freight and passengers."
Source: Almaviva
ATAC: a campaign against fare evasion
Atac, TTS Italia funding member, boosts tariff evasion on public transport. An ad hoc campaign has been launced in the past days but above all, the number of controls has increased since 2016 with positive results. In 2016, 111.740 vehicles have been controlled, with an average of 5 fines issued a day by each controller. Controllers have been operating especially on routes with a higher number of passengers. At the moment there are 310 controllers but Atac is already at wotk to increase this number within 2017.
Source: Mobility Press
DFS and Indra move forward in the implementation of the Single European Sky by introducing the next-generation technology for control of upper airspace
The German air navigation service provider DFS Deutsche Flugsicherung and global consulting and technology provider Indra, TTS Italia ordinary member, have implemented the next-generation iTEC Centre Automation System (iCAS) in the Karlsruhe control centre for most of the upper airspace above Germany. System tests and the first live operations at night have been successfully completed. Full operational use of the system is planned between November 2017 and February 2018. As part of a nationwide modernisation programme, iCAS will replace the VAFORIT system, currently in place for upper area control in Karlsruhe. This will be followed by the system's introduction at the German control centres in Bremen, Munich and Langen for lower airspace. It will also be introduced at the Amsterdam centre of the Dutch ANSP LVNL, Germany's system group partner. iCAS offers a higher level of automation and allows for 4D capabilities, trajectory prediction, flight path conformance monitoring and complete interoperability between control centres in Europe. Robert Schickling, COO of DFS, said: "The deployment of the iCAS system is a major step towards attaining the objectives set forth by the SESAR programme for the creation of a Single European Sky. With iCAS, we will be able to deliver higher service standards for the users of Europe's skies, we will have improved operational performance with increased capacity gains and cost-efficiency, and less environmental impact of flights. iCAS – the biggest investment and innovation programme at DFS – will replace the heterogeneous ATS systems that evolved over time at our control centres with one common system." The new system, based on iTEC technology, allows pilots to choose the most direct route, translating into savings of both fuel and time. Its calculation capacity makes advanced planning of air traffic possible, avoiding conflicts between routes and enabling the management of higher amounts of traffic, more smoothly and more punctually. This system has been designed together with Indra to promote the introduction of free route airspace, enabling airlines to choose the most convenient journey. Testing performed by DFS and Eurocontrol to calculate the potential benefits derived from introducing these types of flights in Germany, Belgium, Luxembourg and the Netherlands have estimated annual savings of 9,000 tonnes of fuel and a reduction of 30,000 tonnes of CO2 emissions in the region. The implementation of iCAS is framed within the iTEC Alliance which brings together Europe's leading air navigation service providers. With Indra as their technology partner, the Alliance has developed the core components of the iTEC system; a common controller working position as well as a flight data processing system. In addition to the German ANSP DFS, the other iTEC partners are from Spain (ENAIRE), the United Kingdom (UK), the Netherlands (LVNL), and Norway (AVINOR), along with Indra as the technology provider. Lithuania (ORO Navagacija) and Poland (PANSA) will join in March 2017. Karlsruhe is the second major European control centre to implement iTEC technology, following Prestwick control centre. It started the en-route flight management of all air traffic in the airspace above Scotland and ocean traffic in the North Atlantic area in June of last year. The iTEC components are expected to be deployed across many of the continent's control centres in the upcoming years and will ultimately manage 31% of Europe's air traffic. As part of its implementation of the iCAS system at the Karlsruhe control centre, Indra has redesigned the work environment for air traffic controllers. Indra has integrated state-of-the-art technologies for graphic information display and system interaction so that the controller can interact with the system in a more natural way, and will simplify the execution of repetitive tasks, increasing efficiency and facilitating the management of greater amounts of traffic. The controller working position will include all of the most advanced tools for coordinating and modifying routes, detecting conflicts and linking ground-air data, offering flexibility with regards to the controller's configuration of data to best adapt it to his or her needs.
Source: Indra
ESRI Italia 2017 Conference in May
The 2017 ESRI Italia Conference will be held in Rome on 10 and 121 May. The conference organised by ESRI Italia, TTS Italia ordinary member, every year gather around 2000 people offering a unique occasion for experts in technologies and especially in Geographic Information Systems, Geospatial Technologies, Geolocation, Geomatics. The 2017 edition of the Conference will be devoted to the subject "Digital Geography in the Industry 4.0 era". Seize the opportunities of the Digital Transformation and increase efficiency. High profile speakers will delve into the theme in dozens of technology workshops, training initiatives, several parallel sessions and project presentations.
For programme and registration, click here
Source: ESRI Italia
5T and Politecnico of Turin: a study to show the benefits of traffic light priority
A study carried out by 5T and Politecnico of Turin, TTS Italia ordinary members, show the benefits of the traffic light priority for trams, under test at the moment in the City of Turin. The study reveals benefits in terms of travel time saved and lower energy consumption. Especially, the reduction of travel time could be further increased thanks to a driving style closer to the theoretical driving profile. The reduction of travel time also implies a reduction of vehicles required to perform a particular service, and costs, including personnel; vice versa, you can increase the frequency of service equal to resources, roughly.
Source: PoliFlash
Save the date: EBSF_2 showcase on innovative bus fleet maintenance tools
The Ravenna Demonstration team of the EBSF_2 project (www.ebsf2.eu) is glad to invite you on 13 April 2017 in Ravenna, Italy, to discuss the potential of predictive maintenance and intelligent garage procedures in improving the efficiency of bus fleets. The event will be hosted by the local operator START ROMAGNA in collaboration with the demonstration leader and service provider PLUSERVICE.
Within EBSF_2, START ROMAGNA has been testing:
- a software developed by PLUSERVICE, TTS Italia ordinary member, for bus fleet management, which combines two innovative applications. The first one is a maintenance software able to analyse data coming from lubricants' quality sensors and elaborate on the remaining life of specific engine components to avoid breakdowns. The second application is a software to assess and plan the fleet's maintenance costs, according to information on the average distance travelled by the vehicles through an accurate analysis of the cost items. Planning the expenses will become much easier as well as managing the financial aspects of the transport company;
- an innovative lubricant quality sensor and fine filtration solution developed by MEL SYSTEMS that allows an effective predictive maintenance and extension of oil useful life;
- a software black-box developed by METATRONIX to gather and transfer the oil sensor's information and diagnostics wirelessly to the back-office.
The overall objective is to minimise operating and maintenance costs by speeding up maintenance operations, reducing non-operational lifetime of vehicles, increase the fleet's reliability and economic efficiency but also reduce the vehicles' fuel consumption and emissions thanks to better performances of the engine. Overall cost savings concerning the maintenance are estimated to be about 5-10%.The overall IT architecture will comply with ITxPT specification and the IT Standards EN13149 parts 7/8/9 will be adopted for the design and the implementation of the onboard IT architecture. To find out more about these innovative solutions, click here.
The event will take place at the NH Hotel Ravenna, Piazza Goffredo Mameli,1, - 48100 Ravenna from 8.30 to 13.30. The draft programme is available here.
Participation is free of charge but registration is mandatory.
Please register as soon as possible and before 6 April 2017.
In case of questions, please contact:
Yannick Bousse, UITP, +32 2 788 0125 - yannick.bousse@uitp.org
Silvia Magnalardo, Pluservice, +39 071 7999 61 - s.magnalardo@pluservice.net
Source: Progetto EBSF_2
SCUTUM and CORE projects on "Strade & Autostrade"
The Italian online magazine "Strade & Autostrade" tells more about the two European projects SCUTUM e CORE.
SCUTUM (www.scutumgnss.eu), coordinated by Telespazio, TTS Italia ordinary member, validated the use of EGNOS in the transport of dangerous goods by road in Europe by providing tracing services "improved" compared to those based on GPS 5, through increased accuracy and stability of the position of tracked vehicles.
CORE (Consistently Optimised Resilient Secure Global Supply- Chains, www.coreproject.eu) is a research project, funded by the European Commission within the 7° Framework Programme, on the use of telematics solutions for improving the visibility and safety of the supply chain, through the development of pilot demonstrations in European and intercontinental real cases. One of the pilot demonstrations is the development of an ITS solution based on multi-GNSS technology (which uses the European systems EGNOS and Galileo, the Russian GLONASS system and the Chinese Beidou 6) for tracking the transport of chemicals and gas on intermodal routes road-rail in Europe. Conceived with the aim of extending the results of SCUTUM, this pilot demonstration is coordinated by Telespazio, and involves HOYER (www.hoyer-group.com - a major player in the European logistics sector), Italian Ministry of Transport, the French Ministry of Transport, ERF and TTS Italia.
Read the article here (available only in Italian)
Source: EDI-CEM Srl - Rivista "Strade & Autostrade" - http://online.stradeeautostrade.it/
TomTom Telematics collaborates with SOTI to deliver enhanced mobility control with remote mobile device management
TomTom Telematics, Business Unit of TomTom, TTS Italia ordinary member, has t announced a collaboration with SOTI that will see the company's popular flagship enterprise mobility management (EMM) software, MobiControl, be made available to manage TomTom PRO 8 series driver terminals. SOTI MobiControl gives fleet managers complete remote control of the TomTom PRO 8 series, an open-platform device that is easily customised with apps to meet the needs of specific users and functions. Content and user profiles on devices are managed centrally, so drivers have access to the most appropriate and up-to-date applications for their specific role, without having to return to base. SOTI MobiControl offers a powerful feature set, enabling managers to dynamically control user groups and policies, allowing access to apps, functionality and content based on a user's role in the business. Access can also be determined based on geographical location. These features not only help to control app usage, but also to manage data costs, for example by not allowing users to download large files when they are abroad. "SOTI MobiControl allows customers using TomTom PRO 8 series driver terminals to instantly manage and update devices in the field, via one secure interface, so they are always fit for purpose. This takes the complexity out of mobility management and frees up time to focus on core tasks," said Oscar Rambaldini, Vice President of Product Management at SOTI. "SOTI is a leader in mobile device management, and by offering MobiControl together with the TomTom PRO 8 series of driver terminals we are helping businesses ensure that their field teams have the tools they need to be effective," said Taco van der Leij, VP Marketing at TomTom Telematics. "With hundreds of apps available for WEBFLEET and PRO 8 series driver terminals we are committed to helping our customers to achieve more with their businesses."
The integration will be handled by OrangeSeven BV, a specialist in MDM that SOTI has selected to provide all MobiControl solutions to TomTom worldwide.
Source: TomTom
Viasat turns 30 years!
Born from the joint venture between Telecom and Magneti Marelli, Viasat, TTS Italia ordinary member, designed and promoted the first satellite system, consumer oriented and able to communicate with a vehicle as well as to send alerts. Since 2002, Viasat groew up, expanding in 40 countries among Europe, Africa, Middle East and South America with more than 500 employees.
To celebrate its first 30 years, Viasat has launched several initiatives such as web contests, a Youtube playlist, discounts for new costumers and above all the new edition of the "Safety Guide".
Source: Viasat
Local Authorities Platform: meeting between Agency for Rome Mobility and TTS Italia members
Within the Local Authorities Platform, TTS Italia has organised at its premises in Rome, on the 14 March, the meeting between the Agency for Rome Mobility and its members. Actually, the Agency will soon receive relevant National fundings for mobilty and transport actions and initiatives. The meeting, with more than 50 participants, has been the occasion for the Agency to tell more about its future plans on the ITS sector.
Several TTS Italia members took part as speakers to introduce their solutions: Pluservice; Kiunsys; PTV Sistema; Aesys; Swarco Mizar; Engineering Ingegneria Informatica; ESRI Italia; Viasat; Duel; Kapsch; Maior.
The day after, a technical visita t the traffic control center in Rome has been organised.
TTS Italia hosts Chinese delegation
On the 3 March, in Rome, at TTS Italia premises, the Italy-China meeting was held, organised by TTS Italia and the "China Instrimpex International Tendering Company".
the meeting was the occasion for TTS Italia members to share best practices and knowledge with representatives from the Chines Cities of Xiangyang and Hubei.
The following TTS Italia members took part as speakers of the meeting: Duel, ESRI Italia, PTV Sistema, Roma Servizi per la Mobilità.
For the photo gallery, click here
Cluster Trasporti Italia 2020: in Rome the conference on mobility and innovation
Sustainable mobility has been the focus of the Cluster Tecnologico Nazionale "Trasporti Italia 2020" meeting, held in Rome on 2 March. The Cluster, also including TTS Italia among its members, The Cluster, association recognized by the Italian Ministry of Education, University and Research as a reference for the sector of transport and systems for terrestrial and marine surface mobility, brings together the largest industrial and scientific actors in the mobility of road, rail, waterways and intermodality. The goal is to create synergies between the various sectors and identify future research and innovation trajectories of the transport sector. The associated to Cluster system generates an annual turnover of around 33 billion euro with 182 thousand employees. During the meeting, technological road maps of the Cluster have been presented.