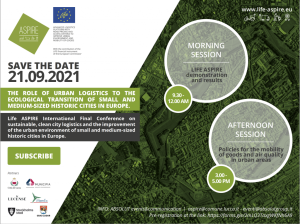 TTS Italia, rappresentata dal Vice Presidente Bruno Pezzuto, prenderà parte il 21 settembre alla conferenza finale di LIFE ASPIRE, che vede tra i partner anche Municipia e Memex, soci ordinari di TTS Italia.
Il progetto "LIFE ASPIRE – Advanced logistics platform with road pricing and access criteria to improve urban environment and mobility of goods", co-finanziato dal Programma per l'ambiente e l'azione per il clima LIFE 2014 – 2020 della Commissione Europea, termina il 30 settembre 2021. Si è concentrato sulla sperimentazione e implementazione di nuovi approcci per regolare e gestire i processi di logistica urbana, in particolare nelle città di piccole e medie dimensioni, come Lucca, con un centro storico da salvaguardare e con la presenza di un elevato traffico di veicoli commerciali.
L'evento finale, che si svolgerà online, prevede due sessioni. Durante la mattina, verranno presentati/dimostrati i risultati del progetto. Mentre nel pomeriggio, si discuteranno le politiche per la mobilità delle merci e la qualità dell'aria nelle aree urbane.
In particolare, l'intervento di TTS Italia si incentrerà su requisiti e modelli di gestione per le ZTL.
Per la registrazione, clicca qui
Per maggiori dettagli e per l'agenda (disponibile a breve), clicca qui
Fonte: LIFE ASPIRE